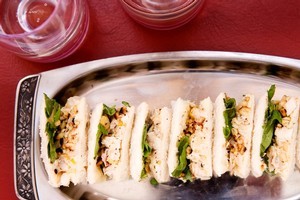 Serves 4
Mayonnaise
2 egg yolks
3 tsp lemon juice, plus 2 tsp finely grated lemon zest
1 tsp salt
1/2 tsp sugar
1/2 tsp mustard powder
1 cup light olive oil
2 tsp boiling water
16 slices of white sandwich bread
Softened butter
Roasted chicken, cold and shredded
2 Tbs pinenuts, lightly roasted and chopped
Fresh basil leaves
Salt and freshly ground pepper
1 To make the mayonnaise; place the yolks, lemon juice, zest, salt, sugar and mustard powder into the bowl of a food processor.
2 Blend then gradually add the oil while the motor is still running. Add the boiling water then check for seasoning.
3 Lightly butter eight of the bread slices. Spread mayonnaise on the other eight slices.
4 Cover the buttered slices with the chicken, pinenuts and basil leaves. Season then top with the slices spread with mayonnaise. Trim off the crusts then cut each into four before arranging on a platter.
Chef's tip
Toast pinenuts in the oven with a little olive oil and salt for a more even result than you get with toasting in a pan where the kernels can get scorched.