Good-looking, moreish and easy to eat, these bite sized morsels will be the hit of the party.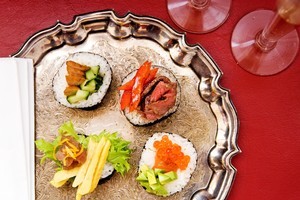 As the countdown to Christmas begins, so does the preparation for parties and get-togethers - some planned and others wonderfully impromptu. The key at this time of the year is to have some stylish canape ideas up your sleeve to impress friends and add an air of relaxed glamour to any gathering.
Everyone loves a tasty canape, and party food should always be small and manageable - one or two bites is perfect leaving a hand free for a glass of bubbly and a napkin. Struggling with skewers or spoons and wondering where to put them while engaged in conversation can distract from what the party should be - a lovely time to enjoy being with friends.
The first canape uses the most succulent duck breast, seared in the pan to get the skin golden and crispy then left to rest before slicing. Brioche is cut into rounds and toasted, then sour cream, orange and dill are whipped up together and dotted on the brioche with the duck. Though the brioche and duck are quite rich, the freshness of the dill and orange cut through for quite a stimulating mouthful - the platter didn't last long during the photo shoot.
Sushi can be as plain or extravagant as you like.
Once you've mastered how to get the rice right, you are only limited by your imagination as to what you can add. Sushi is fantastic at parties because it looks gorgeous, is healthy and is easy to eat. Incorporating the wasabi and ginger into the rolls means there is no need for dipping bowls and smaller sushi rolle are the perfect finger food, with no need for chopsticks.
The third option sounds like a basic club sandwich - and it is - but the flavours are delicious. Chicken is roasted then shredded with some skin left in, pinenuts are toasted, basil leaves are picked and aioli is freshly made. You need to use thinly sliced white bread with the crusts off and cut into quarters - make quite a few, your guests will be back for more.