Greig Morgan puts his green fingers to work constructing his own herb planter.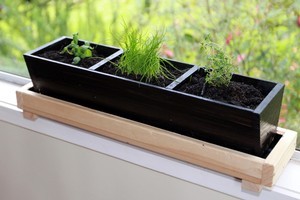 One of the many good things about herbs is that they can be grown in all sorts of places, as long as they get plenty of sun: in pots, between pavers or stepping stones, or on a windowsill that is handy to the kitchen. I decided to make a herb planter to sit nicely on our dining-room windowsill, and it's now a feature of the room. I made my planter with a couple of dividers and a tray for the planter to sit in.
Step 1
To make the tray, first measure the width of the windowsill on which you want it to sit, and the length you want it to be (the measurements given at right are for my windowsill). Using a square, scribe straight lines on the tray's end and side pieces, then cut along the waste side of each line.
Step 2
Using 25mm screws fix both end pieces to the sides, keeping the edges flush.
Step 3
Measure, mark and cut the bottom panel so that it fits neatly inside the tray frame. Screw the bottom to the frame. Place the feet about 20mm in from either end and screw on to the bottom.
Step 4
To make the planter, allow enough room for the planter to sit inside of the tray. I allowed about a 10mm gap right around. With the two end pieces of 130mm wide x 100mm high, measure in at the bottom about 25mm on each side. This will give you the angles for the ends and dividers of your planter. Cut along the waste side of the lines.
Step 5
Repeat steps 1-3 to complete your planter, using 6-gauge screws.
Step 6
Evenly space out for the angled dividers. You will need to trim the bottom of each divider to fit flush with the top of the planter.
Step 7
Drill an 8mm hole in the centre of each divider for drainage.
Sand off all sharp edges. Paint the inside and outside of both planter and tray using rubber bitumen paint.
Step 8
Pour in some vegetable mix, plant your favourite herbs, add water and watch them grow.
Materials for planter
MDF x12mm x2 @ 480x85mm (front & back)
MDF x12mm x4 @ 130x100mm (end pieces & dividers)
30x20mm x2 @ 80mm (feet)
80x20mm x 1 @ 480mm pine (bottom)
20x6 gauge mm screws
Bitumen rubber waterproof paint
Herbs of choice
Vegetable mix
For tray
30x20mm x 2 lengths @ 530mm dressed gauge pine (front & back)
30x20mm x2 @ 135mm (feet)
45x20mm x 2 lengths @ 135mm (end pieces)
MDF x 12mm x 1 @ 135x530mm (bottom) 25mm screws
Tools
Handsaw
Screw gun
Tape measure & pencil
Square
8mm drill bit
120g sandpaper
Paintbrush