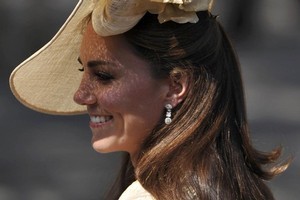 The royal wedding of Zara Phillips and rugby star Mike Tindall cost British taxpayers £400,000 (NZ$816,340), it's emerged.
Buckingham Palace said the event was a "private family affair", but the cost of guarding members of the royal family and celebrity guests came out of the public purse.
Details of royal police operations are normally kept secret for security reasons. But the cost of Operation Opal - the codename for Zara' s wedding in Edinburgh in July - has been revealed in a report by Chief Constable David Strang ahead of a Lothian and Borders Police board meeting next week.
The bill was almost as much as the cost of the Pope's state visit to the Scottish capital last year.
In the run-up to the event, just a few months after the wedding of the Duke and Duchess of Cambridge in London, Miss Phillips insisted she wanted it to be low-key and private.
She and England rugby captain Tindall refused to allow photographers inside the church, instead choosing to release just one official portrait. No other details of the ceremony or wedding breakfast were made public.
But the task of policing the event on July 30 at the Canongate Kirk on the Royal Mile - where the guests included the Queen, the Duke and Duchess of Cambridge and Prince Charles and the Duchess of Cornwall - fell to Lothian and Borders Police.
Streets around the 17th-century church had to be closed and there was a heavy police presence in the area for several days in the run up to the wedding.
A spokesman for the Taxpayers' Alliance said: "With budgets tight it is disappointing that policing costs for Zara Phillips ran into hundreds of thousands of pounds.

"The public should share some of the costs of policing this event as officers are there for the protection of the public and the Royal Family.
"However, this event was not intended to be a high-profile, public event so it is worrying for taxpayers that the policing bill was so high."

Lothian and Borders Police Assistant Chief Constable Iain Livingstone said the costs incurred during major policing operations were "always appropriate and proportionate".
"In the case of the wedding of Zara Phillips to Mike Tindall this summer, the policing operation reflected the fact that the entire lineage of the monarchy was visiting Edinburgh for an event which spanned three days.
"If current trends continue, the force anticipates there will be increasing demand for Edinburgh to provide the backdrop for major events.
"We will continue to police such events; however, it must be recognised there are cost implications."
A Royal Family spokesman said it wouldn't be appropriate to comment.
- DAILY MAIL