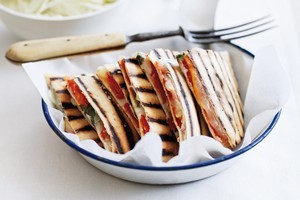 Serves 4
2 bulbs baby fennel, thinly sliced
2 granny smith apples, thinly sliced
1 Tbsp pickled jalapenos, chopped
2 Tbsp lime juice
1/2 cup whole-egg mayonnaise
Sea salt and cracked black pepper
8 long red chillies
1/2 cup oregano leaves
2 Tbsp olive oil
8 small tortillas
100g manchego or cheddar cheese, sliced
1 Place the fennel, apple, jalapenos, lime juice, mayonnaise and salt and pepper in a bowl and mix to combine. Set aside.
2 Preheat oven to 200C.
3 Place chillies and oregano on a baking tray, drizzle with the oil and sprinkle with salt and pepper.
4 Roast for 10-15 minutes or until the skins are golden and blistered.
5 Allow to cool slightly and remove the skins and seeds from the chillies.
6 Top half of the tortillas with the chillies, oregano and cheese and sandwich with the remaining tortillas.
7 Preheat a chargrill pan or barbecue over high heat.
8 Add the tortillas and cook for 1-2 minutes each side or until the cheese is melted and the tortillas are golden.
9 Serve with the apple and jalapeno slaw.
Tips and tricks
To thinly slice the fennel and apple for the slaw, use a mandolin. You can find jalapenos in the condiments aisle of supermarkets.
Manchego is a Spanish sheep's milk cheese available from delicatessens and specialty food stores. You can also use another good melting cheese such as cheddar.
* For more recipes by Donna Hay click here.