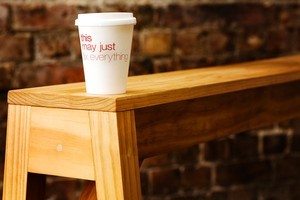 Eighthirty is a boutique coffee roaster on K Rd and they're serious about their coffee. With fair trade organic blends like "Wakey wakey" and the occasional wickedly good snack, it's worth a visit. They had hot beef rolls with gravy during the "thugby" and their devilled egg sandwiches are legendary, but mostly they love roasting coffee - so get in there for some beautiful beans to take home. They also use organic milk and the lids for the cups are made from cornstarch so are compostable. Eighthirty, 533 K Rd, ph (09) 551 3236. Open Monday to Friday from 7.30am, Saturday 9.15am til noon.
Strawberry kiss
Nothing says summer like fresh strawberries and today is the perfect day to treat yourself to a few. Get along to Queen Elizabeth II Square in the city and support the Mercy Hospice Auckland at the Hospice Strawberry Festival. There will be a market set up and you can tuck into strawberries and icecream for just $5 or buy a gorgeous Strawberry Angel Christmas ornament. Plus, there will be live music, entertainment and appearances by fab foodies Lauraine Jacob and Annabelle White who will be sharing at lunch time their favourite strawberry recipes.
Proceeds from the event will help Mercy Hospice Auckland to provide their services at no cost to the patients and their families.
Put it on the list
Have you ever wondered if you were the only one who liked dipping your icecream in your popcorn at the movies? Seems like there are a few of us who love this salty and sweet combination, and now there's a product that captures the flavour perfectly - Kettle Korn. 100 per cent New Zealand-made and gluten, dairy, soy and peanut-free. Available in cinemas, New World and Pak 'n Save supermarkets.
Be quick
If you don't have plans for tonight, quickly call Vinnies restaurant in Herne Bay and join Stanley Palmer for dinner. The landscape artist will show off and discuss some of his works while you indulge in a cocktail, canapes, a three-course dinner and matching wines prepared by chef Geoff Scott. Starts at 7pm. $120 per person. Ph (09) 376 5597.
Whoop whoop
We've had cupcakes. We've had macarons. Now we have whoopie pies and pops. This trend could only have come from America where whoopie pies are de rigueur among the uber chic of New York. Originally cooked by the Amish (apparently the farmers would shout "whoopie" if their good wives had packed a pie in their lunch boxes), they are moist little cakes held together with a sweet cream filling. In London, Harrods - which started stocking them earlier this year - said they had to draft in extra bakers to keep up with the demand. Here in Auckland, they are produced by Lucy Stuart and Nick Maddren in their kitchen in Kohimarama and sold in top food outlets around town. Find them at Farro Fresh, Dida's, La Cigale, The Precinct, Dizengoff and Cigana. Ph 021 198 9994 or
Win with Viva
Looking for fresh inspiration when it comes to your Christmas celebrations this year? Well, we recommend you sign up for one - or all - of Julie Biuso's Festive Entertaining cooking classes. From how to make delicious nibbles for a drinks party, through to how to create impressive dishes for the beginning, middle and end of your Christmas dinner. And we're not talking how to stuff a turkey. Biuso's ideas are far more fabulous than that. The classes start towards the end of November. You can also join her for a special high tea at The Langham on November 20 to celebrate the book launch of her new book Taste Sweet Feast ($45: New Holland) which is jam-packed with elegant, mouthwatering treats. To book, ph (09) 379 5132.
Viva is delighted to have two tickets, valued at $125 each, to attend one of Julie Biuso's cooking classes between now and March. To go in the draw to win, email your name, address and contact phone number to vipviva@nzherald.co.nz with "Julie Biuso" in the subject line. Entries close November 14. Winners announced November 16.