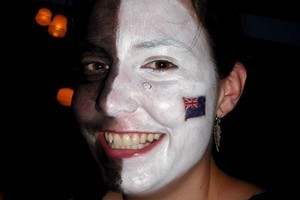 It's been a week now since we all woke to discover that no, it wasn't just a spectacular dream.
We had in fact, for the first time in 24 years, won the Webb Ellis Cup.
I was at a bar in Takapuna for the big game and had gone to a bit of effort, inexpertly applying black and white face paint and digging out my silver fern earrings for the occasion.
The mood before kick-off wasn't quite as jovial as I'd expected it would be though. Perhaps I wasn't the only one who suspected France might provide the All Blacks with a gutsy final challenge.
Nevertheless, we all got to our feet and belted out God Defend New Zealand at the appointed time and any French supporters lurking in dark corners of the bar would have been under no illusion about where this crowd's loyalties lay.
The advance of Les Bleus to meet the All Blacks' haka challenge ratcheted up the tension even further. This game was definitely on.
I thought the All Blacks v Wallabies game had been nerve-wracking but that match-up had nothing on the final.
To be fair, things were looking good after Tony Woodcock crashed over the line about 15 minutes in. A massive cheer went up and it was smiles all round.
"Ha, the French look exhausted already," my husband exalted as they stood bent over with their hands on their knees during the break in play while a conversion attempt was set up.
Unfortunately, Woodcock's try seemed to be the extent of the All Blacks' good fortune in the first half.
Watching my first game of the tournament in public I was reluctant to yell at the screen in the same manner I'd become accustomed to at home, but I couldn't help wondering why kicking duties weren't passed to Aaron Cruden after Piri Weepu botched his first penalty attempt.
Half an hour into the game, despite being ahead 5-0, there was an uncomfortable silence around the bar. Could we really win this thing while squandering penalty kicks?
And then it got worse.
I missed the exact moment of impact but the cries from the other people watching left me in no doubt something bad had happened. I looked up to see a slow-motion replay of Cruden's knee doing something no knee should ever do. And my heart sank.
If Cruden was out and Weepu appeared to be having an off night, who could we rely on?
The name Stephen Donald rang a vague bell, I wasn't sure why at first.
I glanced around the bar at the blanching faces. My husband had his head in his hands and was muttering something about the game being over.
Then I remembered. Donald was the guy no armchair critic believed should be in the squad. I wasn't really sure what to think, other than I hoped Cruden hadn't done any permanent damage.
Donald's moment to prove his critics wrong came just five minutes after half time.
My friend and I, not having any particular opinion on his abilities or otherwise, decided to believe in him for the benefit of the game at hand.
"You can do it Donald!" we yelled, beyond caring now that we weren't in the safety of one of our lounges.
And he did. Cue excited scenes... and more than a few surprised faces.
Now at 8-0, this game was looking up. Or so I thought.
Just two minutes later the French captain, Thierry Dusautoir, got a try right under the posts which was swiftly converted by Trinh-Duc.
Despite my best efforts to look on the bright side, I was concerned as the second half ground on that I might have jinxed the All Blacks' chance of victory.
You see, shortly before the match started I'd popped out to a nearby dairy and bought a bag of Minties. I figured the assembled masses at the bar might appreciate a lolly scramble should the French somehow manage to upset the boys in black.
I really wasn't prepared for how close I came to having to put my plan into action though.
With ten minutes to play and the score unaltered I was feeling utterly deflated. Given even half a chance I had no doubt the French would go for a drop goal and break Kiwis' hearts all over again. The difference being, of course, that this time I would care.
Because I did care, I realised with some shock as I gritted my teeth in those final minutes of the tournament and focused more on the clock at the edge of the screen than the on-field action. I wanted the All Blacks to win and Minties wouldn't be enough to console me if they didn't.
Thankfully, we all know now what happened. How Richie and his men stemmed the tide and were rewarded with that long sought after golden chalice.
I'm glad I picked this tournament to start taking an interest in the national game and although I doubt I'll be watching every single All Blacks match from now on, I certainly have a new appreciation of the sport... and I'm looking forward to watching us defend the cup in 2015.