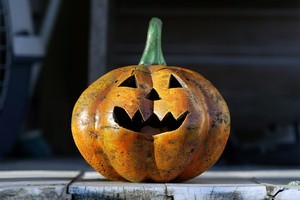 If you are door-knocked by a random collection of little ghosts and witches tonight, you can be sure my eight-year-old won't be among them.
"Mummy, can please I dress up and go door-to-door around the neighbourhood on Halloween?" she's asked every year since she started school and became aware of such traditions.
"Of course you can't. We don't have to beg for lollies. We'll buy our own if we need them," I reply.
I did get into the spirit of Halloween once; it was in the early days when I was footloose and childfree and thought the whole thing was kind of charming.
I may have made jokes about preparing the oranges and razor-blades but in fact I was well stocked up with bags and bags of individually wrapped sweeties and various miniature treats. I even decorated my front door with a small spooky plastic bat.
The evening started well enough. At first the seriously little kids arrived all dressed up as devils or skeletons. They looked a bit shy and uncertain as their parents hovered at the front gate presumably to ensure they hadn't just sent their offspring up the box-hedge-lined path belonging to the leader of a child-porn-ring.
"Ooh, that is a scary costume," I'd say as I dropped two or three treats into each loot bag proffered. Then off they'd happily toddle.
Later large groups of older, more boisterous, kids started coming along. Dressed in edgier, slightly menacing costumes involving hoods, faux blood and daggers, they crushed forward almost inside my house to see what teeth-rotting morsels were on offer.
I thought they were a bit disappointed with their haul but was too polite to tell them that actually 11- and 12-year-olds weren't exactly the market I'd been targeting.
Once it was dark my only customers were well into their teenage years. They'd made no effort to enter into the spirit of the occasion and hadn't even tried to dress in costume; they just wanted to know what was available free of charge.
Frankly the whole interaction seemed closer in nature to a home invasion than a quaint US custom. I was only too glad to take down the plastic bat and shut up shop. Our gates have been tightly locked on Halloween ever since.
And now I'm a parent I'd be embarrassed to allow my daughter to be involved in this absurd activity especially since I've realised the allure for her is simply the heady combination of friends, costumes and confectionery. She couldn't care less about the festival of Halloween itself.
At the heart trick-or-treating is a thinly disguised extortion attempt. I can quite understand elderly people feeling intimidated by the process.
Over the years I've noted carloads of older children being driven some distances in order to go trick-or-treating in an area that is not their own. Presumably they're in search of a better standard of confectionery but it kind of defeats the whole idea of venturing out into your own street or neighbourhood.
As it turns, out some homeowners have been taking their own warped revenge.
Myth-busting website snopes.com verifies that "[p]ins, needles, and razor blades have been found in trick-or-treaters' loot" which is yet another reason not to be involved.
After all, most of us warn our children to keep away from strangers and to not accept food from people we don't know.
Suspending this advice annually so they can go and harass some pensioners just doesn't make sense.