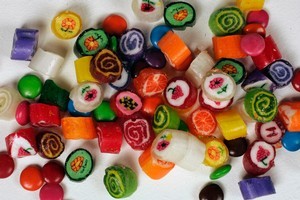 1. The Candyman
428 Mt Eden Road, Mt Eden. Ph (09) 550 8565 Open 7 days.
With candies from America, France, Germany, Italy, Scotland, the United Kingdom, allergen-free and novelty you will be overwhelmed with choice. The marshmallow Pumpkin or Ghost Peeps, cauldrons of orange hot chocolate or chocolate-covered insects are a big seasonal hit.
2. The Old Lolly Shop
Parkway Arcade, 56-60 Hurstmere Rd, Takapuna. Ph (09) 486 6706. Mon-Fri 9.30am-4.30pm, Saturdays 10am-4pm, Sundays 9am-2pm
See lollipops and sweets being made by hand the old fashioned way. Select from classic NZ lollies, handmade lollipops, English sweets, European chocolates, Dutch licorice, turkish delight.
Bags of horror mix, snakes, skulls and black cats. Lollipop making on Sunday morning.
3. Sweet
Sylvia Park Mall, 286 Mt Wellington Highway, Mt Wellington. Ph (09) 579 7772.
All sweets are made on the premises: orange and black lollipops are a classic. Fruit lollies and fruit-salad mixes are treasures and there are still bags of team colour lollies from You Know What.
4. The London Lolly Shop
Queens Arcade, 17 Customs St, Auckland City. Ph (09) 365 1965. Saturdays 9-7pm, Sundays 10-5pm
For Halloween there are giant rats, scorpions and Avondale-spider sized spiders, red-eyed skulls, jelly bones and wormy jelly snakes.