Native and imported pepper flavours add zing to spring dishes.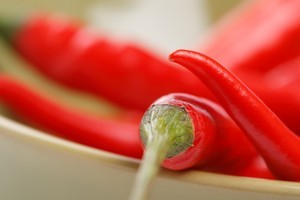 People tend to be chilli lovers or avoiders. The unknown degree of heat can frighten those who are uncertain. This is unfortunate because adding a little chilli can balance a dish and lift it out of the ordinary.
With so many varieties available it is not hard to see why confusion abounds. Large banana chillies are mild and sweet compared to the scorchingly hot intensity of the birds-eye, scotch bonnet and habanero. Green chillies are not hotter than red but they have a different flavour which is similar to comparing red and green capsicums.
The larger the chilli the more gentle the flavour - the smaller, the hotter. You may also find small round chocolate or purple varieties, dried and/or smoked, chillies from Mexico, Malaysia or the Caribbean.
In our own backyard we have a horopito - or pepper tree - which has a delicious earthy flavour combined with a decent chilli pepper punch. It's quite a remarkable plant with beautiful red-splattered leaves which has been growing for millions of years in mountain forests in both the North and South islands and has been used to heal and treat skin complaints because of its anti-fungal properties.
That aside, it is good to know that when you are eating the horopito rubbed lamb you are doing your skin a favour too - the leaves are dried and sold as a herb and are available at many supermarkets and good food stores. Marinate meat then rub with horopito before searing, then finishing in the oven or on the barbecue for a toasty herb flavour that is distinctive.
If you are a chilli lover you probably have a variety of sauces at the ready. Making your own is a straightforward affair but to make it Malaysian a few unique ingredients are needed. Candlenuts, galangal and lemongrass are all essential, along with fiery birds-eye chillies. This sauce will keep for at least three months and can be brushed on to fish or chicken or can be added to yoghurt for a simple dip to serve with the delicious flaky channai roti.
The third recipe is slow cooked chilli beef, with a touch of lemon, which is served with plenty of rice, spring onions and coriander. It's a good example of comfort food with the chilli warmth combining with the taste of fresh clean herbs. Perfect for the last of the cool evenings.
Chef's tip
When removing the seeds from the tiny birds-eye chillies it can be a good idea to wear latex gloves. Chilli oil in cuts or under fingernails is not much fun.