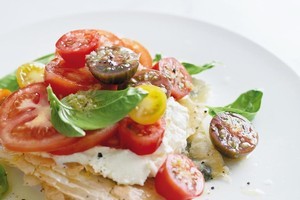 Paper-thin and buttery filo pastry is delicious in both sweet and savoury tarts. Try a spring-inspired tomato tart topped with creamy ricotta and colourful heirloom tomatoes.
Serves 4
80g butter, melted
1 clove garlic, crushed
1 Tbsp finely grated lemon rind
Sea salt and cracked black pepper
6 sheets filo pastry, thawed
2 1/4 cups basil leaves
1 1/4 cups (100g) parmesan, finely grated
1 1/2 cups (300g) ricotta
4 heirloom tomatoes, sliced
Lemon dressing

2 Tbsp olive oil
1 Tbsp lemon juice
1 Tbsp finely grated lemon rind
1 Tbsp white balsamic vinegar
1. To make the dressing, whisk to combine the oil, lemon juice and rind, and vinegar.
2. Preheat oven 200C.
3. Place the butter, garlic, lemon rind, salt and pepper in a bowl and mix to combine.
4. Brush 1 sheet of pastry with the garlic butter, top with 1/4 cup basil leaves and sprinkle with 1/4 cup parmesan.
5. Top with another sheet of pastry and repeat with remaining ingredients, finishing with a layer of pastry brushed with butter.
6. Place on a baking tray lined with non-stick baking paper and bake for 12-14 minutes or until golden.
7. Cut into 8 rectangles and place 2 on each plate.
8. Top with ricotta, tomatoes and remaining basil and the lemon dressing to serve.
* For more recipes by Donna Hay click here.