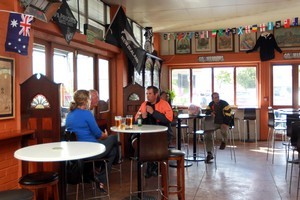 There isn't much choice when it comes to getting a drink in Point Chevalier.
There are a few bars on Great North Rd, another on Carrington Rd, the RSA and a licensed restaurant that barely seems to be open.
But among these unlikely candidates is a real little gem, The Crown, in the parade of shops along Great North Rd. It's not big, it's not flash and it doesn't pretend to be anything other than an honest pub. It sticks to the basics and does them well.
The food is good, solid and unpretentious but beautifully presented and prepared. It's also incredibly good value, as are the drinks.
It's wonderful to be able to walk into a pub and get change from a tenner for a pint of domestic beer.
The staff are friendly and professional and the pub also has a good weekly quiz and karaoke session, if you're that way inclined.
The only thing that lets The Crown down are the toilets, which are pretty heinous and need to be blown up and rebuilt.
Overall, though, The Crown is something of a historical treasure, a working-class bar with no delusions and a comfortable atmosphere.
It's perhaps not the place to go if you're looking for a flash night out, but it's an excellent spot to drop into for a quiet pint and a chat or to watch the big game on telly. Good food, a decent pint and a relaxing atmosphere - what more could you ask for?
Scores:
Service - 4/5
Drink - 3.5/5
Food - 4/5
Atmosphere - 3.5/5
Overall - 4/5
The Crown Hotel
1104 Great North Rd, Pt Chevalier, Auckland, ph (09) 815 2112