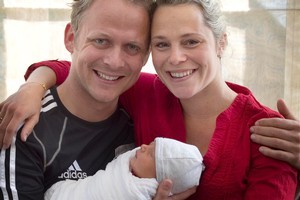 Painful contractions were not enough to stop one dedicated All Blacks fan from watching last weekend's semifinal clash.
Heavily-pregnant Julia Wells' water broke at 8am on Sunday - 13 hours before the All Blacks were set to take on the Wallabies at Eden Park.
But giving birth to her first child was not going to stop the avid rugby fan from catching the match.
"We joked for a long time about this, that I would be going into labour on that day - but the fact that it actually happened, it was quite funny,'' she said.
"And we'd always said that if that was the case we'd get a TV in the room to watch it.''
After Mrs Wells started going into labour at Auckland Hospital, her husband of seven years, James, rushed home to get some necessities - including a laptop so they could watch a live stream of the match on the internet.
"So we got the laptop and set it all up and we had a stunning view of the airshow from the delivery room then watched the game as well - which was a very welcome distraction.''
Mrs Wells, 27, said she missed parts of the game whenever she had a contraction - but her husband was able to see most of it and had his eyes glued to the screen.
"I think it was a nice distraction for him as well.''
Mrs Wells was in labour for more than 22 hours before the couple welcomed Zofia Petra Wells into the world at 10.41am on Monday.
The new mother was slightly disappointed she couldn't wear her All Blacks jersey because of the mandatory hospital gown.
"But we actually did put little New Zealand booties on Zofia when she was born.''
Mrs Wells, originally from Germany, met her Kiwi husband at the youth world windsurfing championship in the Greek Islands in 2000.
They married four years later in 2004 and moved to Auckland.
Mrs Wells said she had never heard of rugby before she came to New Zealand, but quickly grew to love the national sport.
The new family has big plans for Sunday's final and if all goes well will watch onboard a boat in Auckland's Waitemata Harbour.