Asparagus is making a welcome return to the shelves as the season gets under way.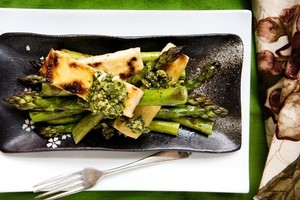 The reappearance of asparagus is one of the first signs that summer is on its way. The asparagus season has just begun and will continue until the end of January.
An ancient food, asparagus has been eaten for more than 20,000 years. As well as being tasty, it's an excellent source of vitamins B and C, magnesium and zinc. Asparagus also has the unique quality of being a natural diuretic which helps to flush the kidneys and liver.
The most commonly found asparagus is the green variety. Look for tightly closed tips with a rich green colour.
Uniform thickness of the spears, whether thick or thin, is important to ensure an even cooking time.
Often overcooked, asparagus is perfect when grilled until just tender. Set it aside and the cooking process will continue for a few moments while you prepare other ingredients.
White asparagus is a treasure but can be a little tricky to find.
It is grown with a covering of soil to keep the light out and only picked when the tips start to peek out of the ground.
More tender and offering a different and delicate flavour, white asparagus is highly prized. It does need to have its stems peeled before cooking.
Purple asparagus is more readily available and has a sweeter flavour because of its higher sugar content.
Now is the perfect time to enjoy the first of the season's offerings - grill, bake, steam or slice very finely and add raw to a salad.
Chef's tip
Both thin and thick spears are equally delicious. Ideally buy asparagus sold loosely so you can pick your own, instead of in bundles bound with rubber bands. Reject any with dry, spilt or wrinkled ends.