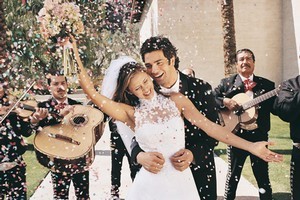 The three opera singers booked for NZ$4944 were meant to provide a sophisticated musical interlude at Virginia and Alan Lynch's wedding.
But while the performance certainly caught the attention of the 100 guests at the reception, it was for all the wrong reasons, according to the septuagenarian couple.
The trio's performance, they say, was a disaster; and so loud it went over the top of the pain threshold', leaving one guest feeling 'physically sick'.
Mrs Lynch, 76, a retired psychotherapist, who, like her 74-year-old husband, is a lifelong opera-goer, said guest Dr Volkhardt Freitag had come all the way from Germany and was so appalled he stuck both fingers in his ears.
She added: "My sister-in-law, Caroline Raphael, who is a devoted opera fan and a friend of Covent Garden, left the room because the over-amplified sound made her feel physically sick."
"The performance can only be described as a disaster."
The couple, who held the reception at Chandos House, a Grade I listed Georgian townhouse in central London, on September 19 last year, later complained.
And yesterday, the row reached the small claims court, with Mr and Mrs Lynch seeking all of their money back from Soprano Bella, which provided the singers.
The company, based in Broxbourne, Hertfordshire, prides itself on only having artists with a strong performance record and said it was the first complaint it had received in more than 1,000 shows.
Singing at the wedding were sopranos Mandy Watsham Dunstall and Bernadine Pritchett, whose CVs both include roles in Phantom of the Opera, and baritone Nicholas Lester, who has performed at Glyndebourne.
Their repertoire included Nessun Dorma, I Could Have Danced All Night and an Abba medley.
Soprano Bella said the complaint was all the more unexpected because the newlyweds had danced as the 30-minute performance neared its end.
Mr and Mrs Lynch attended Hertford County Court yesterday, supported by her brother, renowned journalist Adam Raphael. District judge David Eynon ruled that the parties had already reached a compromise in December.
Mr and Mrs Lynch later decided the apology was not sufficient and continued with a claim for the full cost. But the judge said it was clear they had accepted it at the time.
He told Shaun Turner, a co-director of Soprano Bella, to pay the couple NZ$2966, as agreed in December, plus NZ$563, and he duly gave the couple a cheque for the full amount there and then.
Outside court Mr Turner's co-director and wife Katrina Murphy, 40, said: "The puzzle has always been that the bride and groom got up to dance to the Abba medley... If it was as bad as they say, why didn't they stop the act?"
Last night Mr Lynch said they had not done so because they "were trying to keep the party going".
- DAILY MAIL