Herald Rating: 3/5
Address: 39 Oranga Ave, Oranga, Auckland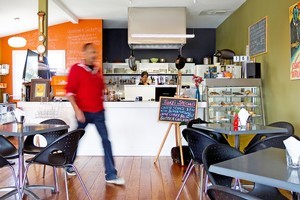 We came here because we'd noticed a new cafe in this growing little area in between One Tree Hill, Onehunga and Penrose, close by our favourite pizza place in Auckland, Epolito's.
Parking was on the street, right outside. There is plenty nearby.
We walked in and immediately thought the décor is an unusual mish-mash of retro kitsch and ethnic curios, and the ethnic theme runs through the menu too.
The most unusual thing on the menu was chicken liver on toast ($12) - tender liver marinated in Indian spices and served with fresh green salad.
We ordered mushrooms on Wild Wheat toast ($10) and corn fritters ($12), which both came with a green salad. Both were good - the fritters light and fluffy and the mushrooms deliciously garlicky. But, be warned, the servings aren't huge.
The service was a bit slow - but we were there during the lunchtime rush and it's still early days in the life of this cafe.
The coffee was Allpress, and pretty good.
We recommend if you come here you nab one of the two big booth tables by the front windows, especially if it's a sunny day.
Overall we thought we're always glad to see new eateries in the suburbs, and this one does a dinner menu too, on Friday and Saturday nights, which might be worth a sticky beak.