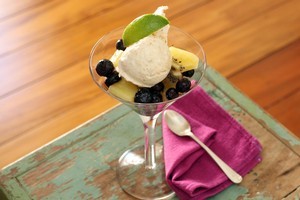 1 Zest and squeeze the juice of two limes.
2 Put a cup of water and a cup of caster sugar in a pot and add the juice and zest.
3 Bring to the boil and simmer until it makes a syrup.
4 When cool add a good slug of gin.
5 Chill.
6 In a martini glass pile thawed frozen or fresh blueberries, diced golden kiwifruit and balls of feijoa icecream.
7 Pour over the gin/lime syrup before serving.