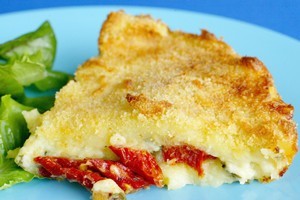 Summer preview
Get an early taste of summer before the field tomatoes hit the markets with a salsa of chopped sun-dried tomatoes, red onions and capers with a dash of lemon or vinegar, layered on grilled bruschetta, pan-fried fish or baked eggplant. Or blend with garlic, parmesan cheese and oil for pesto.
Tart it up
Zing up a potato gratin, egg and bacon or spinach and egg tart with chopped sun-dried tomatoes.
Muffin munchies
Sun-dried tomatoes are perfect for savoury muffins or scones - chop and add to your favourite cheese, carrot or corn muffin. Or blend with cream cheese or feta for a spread for toasted bagels.