You know that spring is truly here when asparagus appears.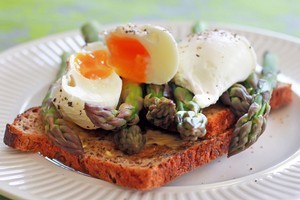 Asparagus is my all-time favourite vegetable. It reminds me of my parents' back garden, where asparagus tips pierced the ground beneath fruit trees bursting into blossom. The sight of those little green spears was the signal that spring had arrived.
You can plant an asparagus patch in your own garden, as long as you're patient - it will take about three years to produce. Or you can buy the vegetable in season. After the early and desirable new sprouts have hit the market (at a premium price) asparagus becomes affordable and should be enjoyed in plentiful amounts during its relatively short season.
The first taste
The first chance I get to eat asparagus I want to eat a lot. I cook off a bunch, toast some grain bread and poach a couple of eggs. Bliss.
Cooking asparagus
You can steam, poach, simmer or grill asparagus. In a previous life, when I had a restaurant, we used to peel the spears in vast quantities, tie them in bundles and cook them in a pot, upstanding, so the tips steamed as the stalks cooked.
I now see this as a bit of an affectation (maybe a nod to my European business partner's love of white asparagus). These days, I set a pan of lightly salted water on to simmer, cut the asparagus to an even length and cook till the base of the spear can be pierced with a knife. Remove and run under cold water if you want to serve cold, otherwise keep warm.
NB: Don't cover your poaching pan, the asparagus will turn dark green.
* Grant Allen has been a professional cook for 30 years. He works as a caterer in Auckland. Visit Grant's Facebook page here.