Address: Level 1, 16 Wyndham St, central Auckland
Ph: (09) 366 0254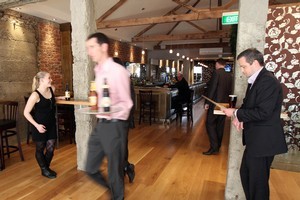 I was looking forward to the opening of this pub: one that offers good beer at a fair price and honest pub food. We need more bars like that.
Tucked away upstairs from a convenience store, Spitting Feathers is gorgeous looking, with exposed concrete joists and a shiny new bar boasting imported lagers, ales and ciders, most of which go for $8 a pint. I strolled in the first Sunday it was open and ... it was out of chips. For an English pub, this is unforgivable. Almost as unforgivable as asking an English customer if he wants ice in his pint of ale, which also happened.
But such things are teething problems and I can see a long and happy future for this pub. It looks fantastic, the beer is good and there is an absence of bad music, pokies, and designer anything. It is a proper English pub. The menu is authentic English tucker and priced to seduce. Scampi and chips at $15 isn't bad (although the scampi needs sauce) and the loaded potato skins would go down well with an ale. The tap beers are good, including Marston's Pedigree, an old favourite, and the bottled range is excellent.
The wine list is good and the selection of spirits is more than adequate. It was clean as a whistle and the staff attentive and friendly, if prone to the odd faux pas.
Overall, a great start and I look forward to reviewing this again in six months after the shakedown period.