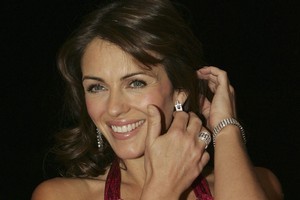 Shane Warne and model Liz Hurley are reported to be engaged after the legendary Australian spin bowler proposed in a restaurant in Scotland following a romantic meal.
Warne, 42, proposed in front of stunned VIP guests at Scotland's exclusive Old Course Hotel in St Andrews, and Hurley accepted, sources told Britain's Daily Mail newspaper.
The couple have been attending the Alfred Dunhill Links Championship.
A witness told the Daily Mail: "Shane proposed over dinner (in fine dining establishment Road Hole Restaurant) ... and it was fairly public - not a private affair.
"It was a VIP crowd in there this evening ...he didn't get down on one knee, but when it was announced, the other guests in the restaurant stood up and applauded. Everyone was absolutely delighted.''
Warne and the 45-year-old model have been dating for ten months.
Warne was divorced in 2006 after 10 years of marriage to wife Simone, to whom he has three children. Hurley divorced textiles heir Arun Nayar in June.
She has a son, Damian, from a previous relationship with entrepreneur Steve Bing.