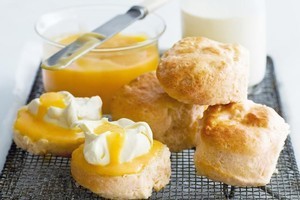 With its sunny colour and tangy sweetness, homemade curd is simply heavenly. Easy to make, they will give breakfasts, afternoon tea snacks and desserts a dollop of vibrant flavour. Try it with flaky scones topped with cream.
Orange curd, makes 2 cups
3 eggs, lightly beaten
2 egg yolks, extra, lightly beaten
1 cup caster sugar
1/2 cup orange juice
2 Tbsp lemon juice
2 Tbsp finely grated orange rind
150g butter, cubed
Scones, makes 10
2 cups self-raising flour
2 Tbsp caster sugar
2/3 cup milk, plus extra
2/3 cup pouring cream
Whipped cream, to serve
1 To make the orange curd: Place the eggs, extra yolks, sugar, orange juice and rind in a saucepan over medium heat and stir continuously for 2 minutes or until the sugar is dissolved. Gradually add the butter, stirring continuously until the butter is melted. Reduce heat to low and cook, stirring, for a further 2-3 minutes or until mixture is thick enough to coat the back of a spoon.
Strain the curd through a fine sieve and pour into sterilised glass jars.
2 Preheat oven to 200C.
3 Place the flour and sugar in a bowl and mix to combine. Make a well in the centre and pour in the milk and cream. Use a butter knife to gradually mix the milk and cream into the flour mixture until just combined.
4 Turn out on to a lightly floured surface and gently bring the dough together. Roll out to 2cm thick and use a 6cm-round cutter to cut 10 rounds.
5 Place on a baking tray lined with non-stick baking paper and brush with extra milk.
6 Bake for 18-20 minutes or until cooked when tested with a skewer. Serve warm.
Tips and tricks
You can store the curd in the fridge for up to one week.
This curd is also delicious served as a topping for icecream. Or you could mix it curd through softened icecream until well combined and return to the freezer to firm up before serving.
Try serving the scones with homemade pikelets and pancakes for brunch.
When making scones, use a butter knife to mix the dough, as this avoids overworking the gluten in the flour. Use light hands to bring the dough together to ensure the scones are light and fluffy.
* For more recipes by Donna Hay click here.