Alan Perrott takes a look at an exhibition of the world's best press photography, currently in Auckland.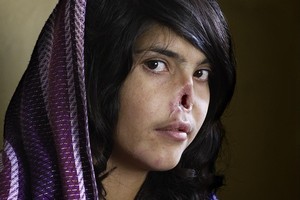 If you don't believe cameras steal a little of our souls, then you can't have seen the captured moments hanging inside Auckland's Nathan Club.
From the frame-by-frame Brazilian gunfight to a Third World abortion clinic and an Irish travellers' horse fair, humanity is being exposed via dozens of beautifully lit pokes to the eye.
Not that everything on show is shocking, the show also features arresting nature images - from Whooper swans in Japan to gannets nesting in the South African summer as well as photos from daily life in cities around the world, sport and the bizarre.
These are the best of the best shots taken by photojournalists in the past year, as selected by the Amsterdam World Press Photo jury, a foundation that has been judging news photography since 1955.
Many of the finalists are highly confrontational and, as curator Jurre Janssen explains, were rewarded only after some heated debate.
"You could not say that everything here is aesthetically outstanding, but they all have stories to tell, even if they are not always the stories people might like to hear. There was much debate over whether some of these things need to be shown.
"Do people really need to see them? Are they sensationalist? But to me, they show how life literally is for some people, and they convey stories and emotions in ways you can't do with words."
This is only the second time the competition's finalists have been shown in New Zealand but, with help from the Rotary Club, it will hopefully become an annual event.
* The World Press Photo exhibition is at the Nathan Club, 40 Customs St East, until October 9.