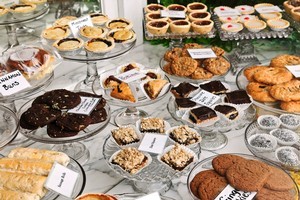 A California students' group plans to go ahead with a bake sale where Asian- and African-Americans will be charged less than whites today, despite triggering a racism row.
Women will also pay less at the "Increase Diversity Bake Sale," organised by student Republicans at the University of California's elite Berkeley campus to protest planned changes in student admission policy.
"The pricing structure of the baked goods is meant to be satirical, while urging students to think more critically about the implications of this policy," said organisers on the Facebook page announcing the sale.
The page lists the price of baked goods at the sale according to race: "White, caucasian, $2; Asian/Asian American, $1.50; Latino/Hispanic, $1; Black/African American, $0.75; Native American, $0.25.
"$0.25 OFF FOR ALL WOMEN!" it adds.
Campus Republican President Shawn Lewis said the idea was to highlight a legislative bill to let California public universities consider race and gender in their admissions process.
He said they planned to go ahead with the planned sale on despite receiving threats.
"Participants will be offered a discount based on their race and gender," he said, in a new post on the controversy which erupted over the weekend after the sale was announced.
"If preferences based on skin colour are OK for college admissions, they should be OK for other aspects of life.
"We agree that the event is inherently racist, but that is the point. It is no more racist than giving an individual an advantage in college admissions based solely on their race or gender," Lewis added.
On Sunday, Berkeley student representatives voted by 19-0 to condemn discriminatory behaviour on campus - even if done in satire.
The Associated Students of the University of California (ASUC) "condemns the use of discrimination whether it is in satire or in seriousness by any student group," said their resolution.
But comments on the Facebook page announcing the bake sale were overwhelmingly positive.
"This is just proof that 'racism' tables have turned and that it is the white man and woman that is truely being discriminated against," wrote one, Diana Lowe Taylor.
- AFP