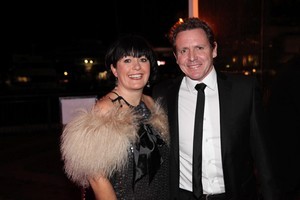 Brides have long anguished over whether to spend thousands on a dress they will only wear once or invest in a demure piece that can be re-worn on other occasions.
Now, a number of women are having their gowns refashioned into one-of-a-kind pieces of evening wear after the big day.
Sales manager Maree Gantley had her ivory gown dyed silver and has worn it twice - to the annual Look Good Feel Better ball and to the 50th birthday party of TV producer Julie Christie.
Gantley plans to have the $1500 dress, an off-the-rack A La Robe number, transformed once more into a shorter cocktail dress in time for the summer party season.
"A lot of my friends have sold theirs on Trade Me. I couldn't bear the thought of having a beautiful dress and not wearing it again," she said.
Designer Elizabeth Soljak said she often made wedding gowns to be reinvented after the big day. One of her creations could be dyed and shortened for less than $100, she said.
"One bride had a pure white, full-length gown and had it shortened and dyed bright yellow in time for her honeymoon the next week. She was able to swan around on the beach in Fiji wearing it."
Soljak is making a black wedding dress for a bride-to-be early next year. Friday, January 13, was the only date the venue had available so the couple were embracing the off-beat theme.
Ribbons, lace and a light, billowy skirt with sheer layers meant the black gown retained a sense of romance, Soljak said. "It will be very easy to shorten afterwards. It will make a great cocktail dress."