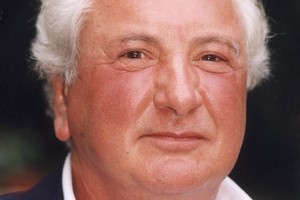 Film British director and food critic Michael Winner has finally married after courting his leading lady for more than half a century.
The 75-year-old, who admitted he once tried to sleep with every girl he saw, said his wife wasn't worried about his former womanising ways.
"She didn't expect at this age of life to marry a virgin," he said.
His bride is 70-year-old Geraldine Lynton-Edwards, whom he met in 1957 when he was a 21-year-old film-maker and she was a 16-year-old actress and ballet dancer.
Lynton-Edwards had a role in his short film The Square, which was released that year.
"It's 50 years since I met the lady. You could say this is the longest courtship in the history of the world," he says.
"We have been together for nine years and engaged for four years, so it's the right and proper thing to do.
"And, of course, I love her."
The couple tied the knot at Chelsea Town Hall yesterday, with actor Sir Michael Caine and his wife Shakira as witnesses.
Speaking of his bride-to-be before the wedding, Winner said: "She has a wonderful youthful spirit. We have many shared experiences, because we started being lovers in 1957, and have had an on-off relationship since then.
"She has been absolutely wonderful to me, particularly when I was seriously ill."
Winner, who directed stars such as Marlon Brando and Charles Bronson, said he enjoyed his decades of philandering, but had decided to calm down.
"I was dedicated to making love to every girl I saw," he said.
"Married or not.
"If they were married, I just said to them 'Tell your husband I'm gay', so for a long time I had a reputation for being gay.
"But there comes a time when you realise it really is unnecessary to do that until the day you die, if anyone is even capable of it.
"They were very nice, but that's gone."
Asked if his future wife was concerned about his former lifestyle, he said she met many of his lovers when he used to take them to Paris, where she lived for many years.
The Sunday Times columnist would not be throwing a party for the wedding because he said he had a big bash after the couple announced their engagement.
Instead they planned to go for lunch with close friends including the Caines, Sir David Frost, Chris Rea, Terry O'Neill and Lord Andrew Lloyd-Webber.
"What I hope for in married life is that the situation between us stays exactly the same," he said.
"I want it to carry on as it is, because it's been more than pleasant.
"She has to take my name, legally, but I would rather she decided to use her name, because it's far posher."
The newlyweds will honeymoon in Portofino, Italy.
- AAP