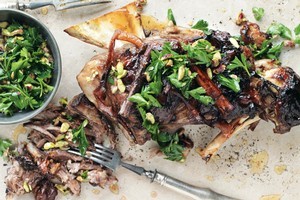 Journey to a Middle Eastern bazaar with the vibrant flavours of this simple dish of aromatic slow-cooked lamb with a honey and pistachio dressing. It's just the thing for a casual meal with friends.
Serves 4-6
2kg lamb shoulder, bone in
6 cloves garlic
1/2 cup red wine vinegar
1/4 cup brown sugar
Rind of 1 orange
2 sticks cinnamon
Pistachio dressing
1/2 cup honey
1 Tbsp red wine vinegar
1/2 cup sliced pistachios
2 cups flat-leaf parsley leaves, roughly chopped
1 Preheat oven to 180C.
2 Place the lamb, garlic, vinegar, sugar, orange and cinnamon in a baking tray and cover with aluminium foil.
3 Roast for 2 1/2 hours, remove foil and roast for a further 30 minutes until golden.
4 To make the pistachio dressing, place the honey and vinegar in a bowl and mix to combine. Add the pistachio and parsley and stir to combine.
5 Top lamb with the pistachio dressing to serve.
* For more recipes by Donna Hay click here.