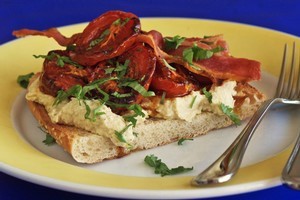 Breakfast break
Make a change from your usual eggs benedict - layer toasted panini or flatbread with hummus, roasted tomatoes, crispy bacon and chopped coriander. Baby veges, boiled eggs and piles of creamy feta turn this into brunch.
Pita pockets
Pan fry falafel, chicken or lamb pieces. Warm pita pockets, split and spread with hummus. Stuff with falafel, salad greens or tabbouleh and garlic-infused yoghurt or a chilli sauce.
Slimmer sandwiches
Use low- fat high-protein hummus instead of mayonnaise in your favourite sandwiches - the garlicky texture suits salad veges, tuna or shredded chicken.