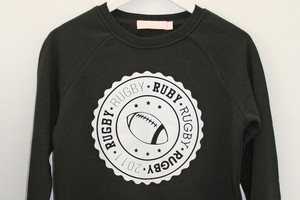 The limited edition 'Ruby Rugby' jersey is available in-stores now. Photo / Supplied
We admit we had considered enforcing a ban on the word "rugby" in the Viva section, but this weekend's opening has drawn us into the fun and hype. Local designers have been getting in on the rugby action, with various special edition pieces - Huffer have released some vintage rugby-inspired tees, and milliner Natalie Chan even has RWC rosettes ("featuring a rugged, black silk-cotton blend base with a crisp white centre detail reminiscent of the 2011 jersey collar"). They're $30 each from her Parnell store, ph (09) 303 4930. Local favourite Ruby has just released a very limited edition run of these sweet "Ruby Rugby" sweaters to stores. $139, ph (09) 522 6658. And now we go back to being a rugby-free zone.
Hello New York
Karen Walker is currently in New York City, and will showcase her latest collection, The American Girl, today. Runway images will come out online this afternoon, but we have a special sneak preview. What to expect? Turbans, Walker's signature original prints (like the rose one pictured) and elegant silhouettes; the show will also debut her new eyewear collection.
The collection on the runway today is inspired by two contrasting American women: the elegant aloofness of Betsy and childlike toughness of Iris from the film Taxi Driver.
Back to black
The Black in Fashion: Wearing the Colour Black in New Zealand exhibition opened in Auckland last week, and Viva went along to the opening. Curator Doris de Pont of the New Zealand Fashion Museum has brought together a fantastic selection of iconic black garments, each with a unique story, which help examine why and how the colour black has become part of New Zealand's identity - from the expected (various sporting uniforms) to the fashionably iconic (garments from the "New Zealand Four", Zambesi, Nom*D, Karen Walker and World, who showed at London Fashion Week in 1999) to the somewhat unconventional (an incredible leather gang costume from the film Once Were Warriors). Other special garments to look out for? Local fashion icon Judith Baragwanath's black leather jacket and feathered hat from the 80s, Tame Iti's black suit, and a "Soft Bomb" sweater from The Chills, complete with markings (apparently the wearing of black among bands in the Dunedin Sound scene wasn't so much about fashion as about practicality - it didn't show beer spills or burn marks).
The Black in Fashion exhibition is part of the Real NZ 2011 Festival, and entry is free. Until October 24, at Britomart, Corner of Galway and Gore Streets, Auckland. Monday to Saturday, 10am-6pm; Sunday, 10am-5pm.
A fashionable heritage
English heritage brand Ettinger of London has recently arrived at Crane Brothers, the exclusive New Zealand stockist of the luxury leathergoods label. Crane Brothers will offer an edited range of pieces from the Bridle Hide and Cut Edge collections, including a selection of billfolds, coin purses, visiting card cases and coat wallets - described by Crane Brothers' owner Murray Crane as heirloom pieces that will never date. Ettinger of London is one of only two luxury leather goods companies to hold a Royal Warrant.
Curatable fashion
Fashion gallery store Curate has opened in Auckland, with a selection of New Zealand fashion and design on display and sale - fashion, accessories, jewellery and art showcased in the new black steel buildings in the centre of the Britomart precinct. Fashion labels involved include Cybele, Sylvester, Sabatini, Stolen Menswear, Deborah Sweeney, Chaos and Harmony, Saben and more. Find the space at 5a Gore St, Britomart, Auckland.