Whether for ecological or commercial reasons, organic and sustainable winegrowing is taking off.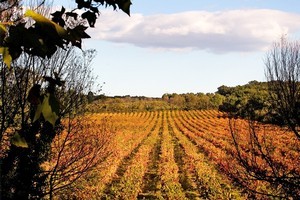 Wine is now available in three colours: red, white and increasingly in fashionable shades of green as New Zealand's vineyards undergo a natural revolution. Not only are the majority of our winegrowers now signed up to the country's sustainable winegrowing scheme, but 20 per cent of our vineyards could be organic within a decade if a recently set target is hit.
Though New Zealand historically promoted its wines as "the riches of a clean, green land", until relatively recently we've been lagging behind winemaking giants such as France, Italy and Spain, which have over 5 per cent of their huge vineyard areas managed organically.
However recent years have seen the ramping up of our Sustainable Winegrowing New Zealand (SWNZ) scheme, which has led the nation away from the chemical spray programmes that once saturated our vineyards to more natural modes of grape-growing. It's almost achieved its ambitious aim to get everyone in the industry on board with this or another independently audited environmental management scheme by 2012, with SWNZ membership now covering over 95 per cent of the vineyard area.
ORGANIC GROWTH
As the organic movement starts to gain momentum, the ante has been upped further with the target set earlier this year by local organisation, Organic Winegrowers New Zealand (OWNZ) to have 20 per cent of our vineyards organic by 2020. Unlike SWNZ, which permits measured chemical use, organics eschews all synthetic chemical fertilisers, pesticides or herbicides in favour of more naturally derived products and processes.
In the past three years the vineyard land under organic certification in New Zealand has tripled. Now more than 1750 hectares of vines on 115 vineyards are grown organically, representing more than 5 per cent of all our land under vine.
"A whole lot of vineyards harvested their first fully certified organic grapes this past vintage," notes OWNZ's national co-ordinator, Rebecca Rieder. "This is the biggest increase in fully certified organic vineyards that we've seen in any one year and it's exciting to see the 'next generation' of organic wine producers coming on stream."
Organic pioneers such as Millton have recently been joined by the likes of Muddy Water, Carrick, Hans Herzog, Fromm, Huia and Woollaston, while even big wine companies, such as Pernod Ricard are entering the once artisanal organic fold with some of their vineyards.
While hippies were the first movers and shakers in organics in some winegrowing nations, here in New Zealand the early adopters were some of our most respected producers who embraced organics due to their conviction that it would help take their wines' quality to the next level. But quality is not the only reason our wineries are being drawn to organics.
For some, like Carrick, it was partly initiated by a personal desire not be working in an environment with chemicals. "Our own vineyard staff, the winery and our house are in the middle of the vineyards," explains Carrick's Barbara Green, "so apart from believing that organics helps to grow healthy vines, we also feel happy that the environment that we live and work in is healthy for everyone."
A growing number, such as Babich - which now produces an organic range alongside its conventionally grown wines - have been converted after their experience within the SWNZ scheme. "The company decided to investigate organic production as our ongoing progression from sustainable grape growing," says Babich's Joe Babich. "It was driven by environmental and wine quality reasons - not marketing."
Another driving factor in the recent rise of organics, about which wineries are more coy, is that in today's increasingly competitive market, organic credentials are perceived as useful point of difference in the current sea of sauvignon and ocean of cut price wine worldwide.
Consumers who prefer their products hand-reared rather than factory farmed are increasingly looking for a more natural approach to the wines they drink as well. However, the uptake for organic wine has still been slower than that for the likes of organic meat or vegetables, given many consider wine an intrinsically natural product.
"The average consumer doesn't realise how 'industrialised' wine is made: they think all wine is a very natural product," says Te Whare Ra's Anna Flowerday. "If there had a been a Jamie Oliver/Hugh Fearnley-Whittingstall type expose on industrialised/manufactured wine and all its dirty little secrets - such as vineyard sprays, added tannin, oak powder, reverse osmosis and the like - then I think they would care more about how the wine is grown and made."
MAKING WINE BY THE MOON
Te Whare Ra is one of a small but growing band of wineries that have recently taken their natural approach a step further through embracing biodynamics. Using the principles of Austrian philosopher and scientist Rudolph Steiner, biodynamic producers not only use no chemicals, but also employ specially made natural preparations, which they consider connect the land with the rhythms of the earth, moon and environment.
Though some regard the spiritual dimension of biodynamics as New Age lunacy and are sceptical about the scientific founding of practices such as burying cow horns filled with manure, it's a philosophy that's been embraced by some of the most respected winemakers both here and internationally, while science is starting to lend support to its techniques. Some of our leading estates, such as Felton Road, Seresin, Pyramid Valley and Churton have embraced biodynamics, joined by new players such as Burn Cottage, established biodynamically from its inception.
"We went down the biodynamic path as we'd lost faith in conventional farming," says Burn Cottage's winemaker and vice-president, Ted Lemon. "I didn't think it worked any more and saw how biodynamics did."4
It's a move that appears to have paid off as, while many in the region struggled with the challenging conditions of the 2011 vintage, vineyard manager Jared Connolly reports Burn Cottage harvested its best fruit yet. "I think the biodynamics has made the plants receptive to what we do," he observes.
SUPER NATURAL
A few, such as Mike Weersing at Pyramid Valley have gone even further, into the more controversial realm of "natural winemaking". Weersing embraced biodynamics to harness the biology of his vineyard, which he considers lets the character of the site show itself more clearly in his wines, an approach that is increasingly followed through into his winemaking.
"The problem is universities teach us conventional winemaking, which employs the same mindset as conventional viticulture," says Weersing. "So in the winery this means wipe out any 'scary' natural microbes, insert your own, then control the progress with chemicals and machinery. This is really no different than spraying and bulldozing a meadow, in order to plant a monoculture of corn, which one then polices with sprays and tractors."
So does a more natural approach to grape-growing result in better fruit and superior wine? New Zealand Winegrowers and OWNZ are hoping they'll have some scientific answers to this thorny question in the results of their recently launched three-year "Organic Focus Vineyard" project. In this they will be comparing the merits of organic and conventional vineyards growing side by side in three wine regions.
"The main outcome with organic winegrowing and any other form of growing organic plants and animals, is that a closer relationship is established with Mother
Nature," says OWNZ Chair and NZ organic and biodynamic pioneer James Millton, who established the organic Millton vineyard back in 1984. "If you are good to her she always repays you."
Some of the most delicious wines in the world and increasingly in New Zealand are now natural in origin. Given many are made by some of the best producers it's hard to tell whether they'd be just as good if they were made using more conventional methods. However, it seems logical that their end products benefit from the closer connection organics and biodynamics engenders between a winery and its vines.
How things have changed in the wines we can buy in only that last five years: conventional, sustainable, organic or biodynamic - the choice is now yours.
The Darling Moscato Inspired Sauvignon Blanc 2011 $25
From the partnership of Marlborough organics mover and shaker, viticulturalist Bart Arnst and winemaker, Chris Darling comes this low alcohol sauvignon blanc made in a slightly spritzy and softly sweet "moscato" style, with an appealing lemony freshness, hints of passionfruit and herb. (From The Wine Vault, Point Wines, Wine & More.)
Sunset Valley Vineyard Nelson Chardonnay Reserve 2008 $23.50
Set up as an organic vineyard from its inception, this Nelson estate's impressive chardonnay counterpoises rich toasty notes and fleshy stone fruit with a wonderfully fresh line of acidity. (From Grey Lynn's Harvest Wholefoods.)
Churton Marlborough Pinot Noir 2009 $44
This elegant biodynamic and hillside grown pinot noir from Churton unfurls to reveal silky layers of cherry and spice, hints of mineral and floral over a subtle savoury undercurrent. (From The Wine Vault, Accent on Wine, Glengarry, Peter Maude, Bacchus, Farro Fresh.)
Vynfields Classic Martinborough Single Estate Vineyard Riesling 2010 $29
A beautifully balanced and off dry riesling that combines attractive mandarin and stonefruit and a gentle sweetness offset by its fresh fusion of mineral grapefruit. (Artisan Fine Wine, The Village Winery, New Word Victoria Park.)
Woollaston Nelson Pinot Gris 2010 $20
Woollaston is one a number of local wineries to achieve organic status this year. This great value pinot gris, made in its third year under conversion, is fresh and in drier spectrum, with concentrated quince and apple fruit, hints of bergamot and spice. (From Co-Pilot: steve@copilotdistributors.co.nz.)
Two Gates Hawkes Bay Syrah 2007 $55
A sumptuously fruited syrah from Hawkes Bay's only currently organically certified single estate, that's velvety textured with exotic aromatics of liquorice, star anise and black pepper, deep ripe dark berry fruit and notes of leather. (From Scenic Cellars.)
Brancott Estate Living Land Series Sauvignon Blanc 2010 $23.99
Organics went mainstream with the release of this organically made sauvignon - with its attractive zesty lime, fresh herb and passionfruit character - from New Zealand's largest wine company, Pernod Ricard. (From leading liquor outlets and restaurants nationwide)
Les Aphillantes Vin de Pays de Vaucluse, France 2010 $16.95
Organic or indeed biodynamic wine - and this fine French example is both - need not be expensive. This attractive and extremely affordable blend of syrah, grenache, mourvedre, merlot with its rich briar fruit, savoury notes and hint of herb, is a natural bargain. (From wineimporter.co.nz)
Te Whare Ra Marlborough Gewurztraminer 2010 $32
Historic Marlborough estate and producer of one of the country's most consistently impressive gewurztraminers has gone organic and is applying biodynamic principles. There's amazing old vine intensity in its opulently textured palate of musky spice, tuberose and bite of quinine and citrus zest. (From Liquor King, Scenic Cellars, First Glass, Cambridge Fine Wine Company.)
Pyramid Valley Earth Smoke Canterbury Pinot Noir 2009 $110
One of the country's most exciting biodynamic vineyards has produced one of our most fascinating pinot noirs. Notes reminiscent of autumn leaves, smoke and spice combine with pure and delicate summer berry fruits and florals in its gossamer textured palate. (From Kemp Rare Wines, Caro's, The Village Winery.)