Grab some wood and make your RWC poster a winner, writes Greig Morgan.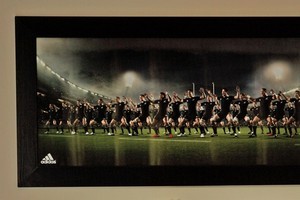 My son Jamie was given an All Blacks poster for his 9th birthday and it's probably going to be worth a bit of money later on, after we win the Rugby World Cup. But it needed a picture frame to preserve it.
Anyone can have a go at making a picture frame. After all, it's only four pieces of wood put together and you can be as creative as you like. Frames also make great presents.
Step 1
Clamp your 75x25mm framing to your work bench with G-clamps, one at either end. Set up your hand router to rebate 6mmx11mm deep. This will let the glass and back sit into the frame (set up using a piece of scrap wood first before using your good piece).
Step 2
Measure the size of your poster, then measure and mark the wood with a combo square. Cut a 45-degree angle. Make sure you allow a couple of mm more for your picture to fit in the frame. My measurements were 1005mmx407mm.
Step 3
Glue your 45-degree-angle joints, clamp together with mitre clamps. With 16mm screws, fix corner braces to the back corners for added strength. Sand with 150grit sandpaper. Paint your frame. Lightly sand between coats with 220grit sandpaper.
Step 4
Take your frame to a glazier to fit a piece of 2mm thick glass. Clean the glass, lay the poster against it, and measure and cut your 3mm MDF backboard to fit snugly inside the rebate. Now evenly place and fix your glazier points using a flat screwdriver.
Step 5
On the back of the frame, measure down 180mm from the top on either side, and screw in a 16mm screw, most of the way in. Wrap the brass wire around one screw, and fix the screw right down. Pull the wire tight with pliers and wrap this end around the other screw. Cut the wire off the roll, tighten the screw.
Now hang up your All Blacks picture. I'm trying to persuade my son to have it in the lounge or the games room, but somehow I don't think that's going to happen.
Materials
75x25mm pine kiln-dried x 2 @ 1200mm and x2 @ 600mm
1200x 600mm x 3mm MDF x 1 (back)
Picture-frame glass 2mm thick (glazier to cut and fit to size)
Glazier points x 1 packet (to hold back, picture and glass together)
50mm corner brace x 4
PVA wood glue
Brass wire
Packet of 16mm screws
Can of primer paint
Can of gloss paint
Sandpaper x 150 and 220grit
Tools
Mitre saw/handsaw
Hand router and 6mm router bit
Mitre clamps x4
Combo Square
G clamps x2
Flat blade and Phillips screwdrivers
Pliers
Paint /speed brush