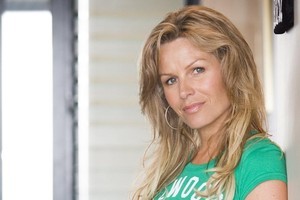 Farting. Bloating. Loud intestinal gurgling ... what has this to do with New Zealand's most beautiful woman, Lorraine Downes?
The former Miss Universe and Kiwi beauty icon has agreed to be the face of Symbio Probalance yoghurt in a TV ad campaign starting tonight.
Only a quarter of women will admit to flatulence issues. Even under the cloak of an anonymous Colmar Brunton survey, 74 per cent of women denied suffering "digestive problems".
But when the researchers probed deeper, they discovered the daily lives of 40 per cent of Kiwi women were blighted by gas.
It was, perhaps, a step closer to ending the eternal debate: whether women fart more than men.
Fonterra commissioned the research to support the promotion of a yoghurt to reduce everything from flatulence to irregular bowel movements in women.
Symbio Probalance - a yoghurt with a claimed five billion bifido-bacterium lactis cultures in every serve - was crafted to increase the ratio of "good" bacteria in the gut and do away with the nasty fart-causing stuff.
Downes said she took the "14-day challenge" to help slip into a slinky evening gown to wear for the advertisement.
"I wanted to feel my best. Working towards a shoot, there can be stress and, with stress, the symptoms of bloating can happen. I felt very confident with how I was feeling and looking on shoot day," she said.
Downes said she helped keep the symptoms of "digestive discomfort" at bay with a super-healthy diet.
"I have [suffered from digestive issues] during stressful times in my life and I am sure a lot of other people do too. But it's a topic that people generally don't like to discuss, especially their personal symptoms."
Nutritionist Angela Berrill said flatulence, constipation and irregular bowel movements were the most common problems women came to her for.
"Almost all of us have some sort of digestive health problem but because they are taboo, we suffer in silence," she said.
Berrill said shoppers should be careful when buying probiotics products, as some contained ineffective amounts of the culture. She said Fonterra had presented solid academic research to back the Symbio claims.