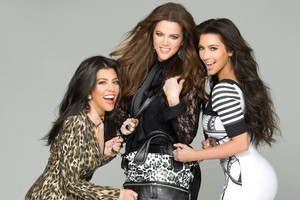 American reality television sisters Khloe, Kim and Kourtney Kardashian are to sell their designer handbags in a Kiwi chain store it is hard to imagine the trendsetters putting a foot inside - middle market shoe retailer Hannahs.
Their "kollection" of 11 "trendy yet affordable" bags will range from $70 to $150. They will land in-store from September 22.
Hannahs chief executive David Gordon said: "Kiwi women are going to love it," he said.
"The bags are just fantastic; high-fashion designs at affordable prices."
Newly-wed Kim Kardashian - who shot to fame after a sex tape was leaked on the internet - said in a press release she and her sisters had enjoyed their foray into fashion.
"Kourtney, Khloe and I are at every design meeting. We have learned so much about the design process and have included our individual creativity in the collection. We're really excited to be launching the Kardashian Kollection in New Zealand," she said.
But the move has not been without controversy - designer Monica Botkier has accused them of stealing her designs. They deny it.
The lives of the famous-for-being-famous sisters are documented in the E Television show Keeping Up with the Kardashians.
Kim, 30, is said to be worth about US$40 million. Khloe is 27 and Kourtney 32. Kim is heading to Australia in November.
It is not the first time a big name in entertainment or modelling has fronted a mainstream Kiwi brand: Rachel Hunter leads a fashion label at The Warehouse.