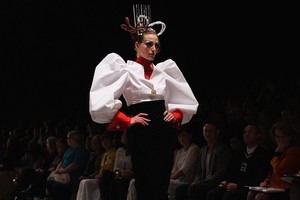 A drag act, the live finale of New Zealand's Next Top Model, Britney Spears Oops...I Did It Again (all three minutes and 30 seconds of it), and a story of Good v. Evil, are just some of the elements that can only be attributed to local fashion hero World and its Fashion Week showcase at the Viaduct Events Centre last night.
It's the kind of irreverent spirit and flamboyant disposition we've come to expect from World and its shows and this year's extravaganza was much reported on due to its involvement with NZNTM, with 21-year-old beauty Brigette Thomas of Motueka crowned the winner last night.
As for the collection itself, many of the pieces looked to be stand-out show pieces and it will be interesting to see the collection in its entirety (menswear included) once it hits stores next season.
What was shown however was a three-part story that included an opening section of glow in the dark science fiction-inspired tailoring; futuristic florals and big fur coats that touched on the idea of a winter princess.
The stylised floral print in red and cream made an impressive impact on the runway; as did a double breasted red wool coat with gold buttons; and a structured crisp white blouse with voluminous bell sleeves, paired with a trailing black skirt provided high octane drama perfect for the viewing public at home.
A special mention must be made to the hair and makeup teams for the mammoth time it must have taken to prepare each model's individual look (local model Samantha Shorter of 62 Models announced on her twitter page that she'd been in hair and make up for six hours) with James Leuii for Shiseido heading the makeup and Michael Beel from Buoy Salon in Wellington creating what can really only be described as works of art.
Each model took to the runway with their own hair creations, some bejewelled with gems, others resplendent with sky scraping hairpieces. It was the kind of hair and makeup that flew in the face of the tired smudgy black eye and nude lip brief so often seen on the catwalk at Fashion Week, reminding us of World's belief that fashion can have an escapist value even here in humble pie New Zealand.
OUR ONE-WORD REVIEW: Ostentatious.