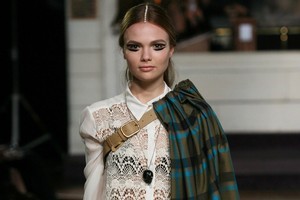 Oh what joy for the last show of the first day to be held in the beautiful St Mathew-in-the-City.
Soaring arches, elegant lighting and uplifting music set the scene for Salasai's Uncharted Territory autumn/winter 2012 collection.
The pressure was on following last year's stand out show, and the venue, makeup by M.A.C senior makeup artist Amber D, and strong styling by Canvas fashion editor Dan Ahwa ensured an air of confidence.
Designer Kirsha Whitcher built on her reputation for strong androgynous design with signature buttoned up shirts, harem pants and use of plaid -this time using softer, gothic-style lace and floating silk fabrics alongside the more structured and colourful tartans.
Standout pieces included the double breasted coat from last season in linen with fine knit sleeves, a tartan pinafore, and the pearl stud detailing, which added a punky yet feminine feel.
OUR ONE-WORD REVIEW: Confident.