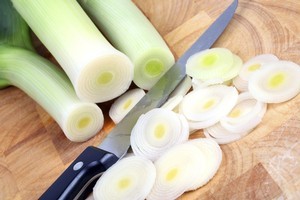 How to grow them:
Leeks are fiddly things to plant, but worth it.
Dig a trench (about spade depth) and incorporate compost, rotted manure or store-bought organic fertiliser and dig well.
Carefully separate the thread-like leek plants and place upright about 10cm apart.
Once the row is laid out, gently backfill the trench part of the way up so only the tops of the leeks are showing.
Leeks will develop more tender white stem versus tough green leaves if you gradually backfill more soil into the trench as they grow.
What to cook with them:
Leeks have a more subtle flavour than onion, and are great flavour base in winter stews.
For a light dish lay thinly sliced leeks, a can of tomatoes, a little olive oil and white fish fillets in a baking dish, cover with foil and bake.
Grind over some black pepper and serve with peas.