Alexa Johnston's new cook book gathers together favourite pudding recipes in a trip down memory lane.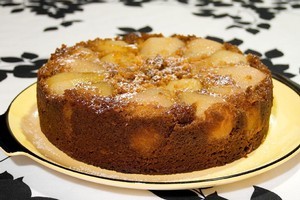 When Alexa Johnston published her award-winning book, Ladies a Plate, and its follow up, A Second Helping, she tapped into a zeitgeist, bringing together her love of baking with the historical research skills of her day job as a freelance museum and art gallery curator. In What's for Pudding, she branches out from morning and afternoon teas to most people's favourite part of the meal - pudding.
Simply organised by hot, cold and "very special puddings", the book is a delightful trip down memory lane, to the time when prudent housewives filled the spare gaps in tummies with filling sticky winter puds or pretty, chilled summer desserts. The creams and custards and home-made jellies are miles away from the packet stuff.
Make the most of the last of winter weekends by baking a glorious spongy or steamed pudding.
Gingerbread upside-down pudding
Enough for 6-8 people
Sometimes called Topsy-Turvy Puddings, these are fun to make and look highly impressive when turned out - especially if you have taken the time to arrange the fruit carefully on the base of the tin. As a young cook I thought that rings of tinned pineapple with cherries in the centre were particularly glamorous - if a little difficult to serve - but tidy servings are not the main point here. Florence Cornish of Khandallah contributed this excellent recipe to the 1951 League of Mothers Cookery Book. It has a thick layer of apples resting on moist and spicy gingerbread. If you use pears, make sure they are very ripe, or stew them gently first, or used tinned pear halves.
For the fruit layer
25g butter
8 apples
25g sugar
For the cake
1/2 cup butter
1/2 cup boiling water
1 cup golden syrup
2 cups flour
1 1/2 tsp ground ginger
1 tsp baking soda
pinch salt
Getting ready
1 Preheat the oven to 180C. Butter a 20cm round cake tin and spread the bottom thickly with the butter for the fruit layer.
2 Sift the dry ingredients for the cake.
Making the pudding
3 Peel, core and slice the apples and arrange a layer of them in the base of the tin. Sprinkle with sugar and repeat until all the apples are used.
4 Put the butter for the cake into a mixing bowl and pour over the boiling water, followed by the golden syrup. Stir until the butter melts, then beat in the sifted dry ingredients in three lots and mix thoroughly until smooth.
5 Pour carefully over the fruit and bake for about 45 minutes until a skewer comes out clean. Rest for about 5 minutes and then turn out carefully and serve with hot custard or cream.
* What's for Pudding, by Alexa Johnston, published by Penguin, $50.
Be in to win
Weekend Life has one copy of What's for Pudding, by Alexa Johnston, published by Penguin to give away.
To enter, go to nzherald.co.nz/weekend, complete your details and enter the competition keywords "What's for Pudding". Entries close at midnight Wednesday, August 31, 2011.