Fondue, the most iconic food of the 70s, is making a serious comeback.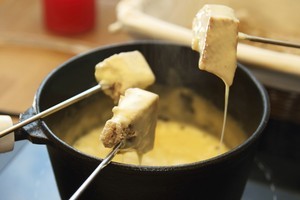 Messy, monotone and more retro even than the prawn cocktail, fondue is enjoying an unexpected renaissance. Bridal couples beware: this year, that giftbox is more likely to contain a chafing-dish and six pronged forks with colour-coded handles than at any time since 1979.
Some people will use their fondue sets to heat oil in which to sear cubes of fillet steak destined for dipping sauces. Others will fill them with chocolate in which to bathe berries, bananas and marshmallows for a sinful communal dessert. But the vast majority will melt Swiss or French alpine cheeses with white wine and kirsch to make a highly aromatic goo into which they can dunk cubes of good bread and twirl them expertly into possibly the most sensuous mouthfuls known to man outside an oyster shell.
Is this all about nostalgia, with the recession driving middle-aged householders to the comfort food they grew up with?
That's the view of Louise Selwood, cookshop and dining buyer of London's Selfridges, who has seen sales of fondue sets increase by 120 per cent since last year.
"Seventies food has had a serious revival, and fondue is the most iconic of all 70s dishes," she says. And clearly those sets are actually being used, since Selfridges also reports sales of classic fondue cheeses - emmental, gruyere and comte - up 20 per cent on average, and an increase of a third in sales of sachets of pre-made mixes.
It could also be a vogue for comte itself, the rising cheese star of the past few years.
"I would certainly put comte into any fondue I was making," says aficionado Huw Mainwaring who, following years of selling cheese on market stalls, is now the product developer for Marks & Spencer. But he warns against the temptation to bung in the cheaper versions of Swiss cheeses that now feature in every supermarket's budget range or, worse still, to use imitations such as jarlsberg, which are not the same thing at all.
"You want only the best ingredients in there if you're not going to end up with an insipid fondue," he says. "I wouldn't use the entry-level gruyeres and emmentals, which can have a rubbery texture, but might use a mixture of comte and beaufort with the emmental instead."
This latter mix is the choice of Julien Ledogar, who took the surprising gamble - in the middle of a recession - to open a restaurant based entirely on cheese cuisine.
"Being French, we don't use gruyere like the Swiss, though we do use emmental - for the consistency," he says.
"The French cheeses add the flavour: comte brings fruitiness and beaufort, underlying strength."
Ledogar previously ran a cheese restaurant in France for three years, but had no idea whether it would go down well with Brits.
"It was a gamble," he admits.
"I saw there was a market gap in London. But I discovered the English love cheese even more than the French."
He finds customers - 70 per cent of whom order a fondue, raclette or cheeseboard as a main course - consider comte right up there with brie and camembert as one of the elite French cheeses, but does not believe this in itself is responsible for the popularity of fondue.
"It's more, I think, that it reminds them of happier times, from what I hear them saying over the fondue," he explains.
Most of Ledogar's fondue-eaters at L'Art du Fromage, just off London's King's Rd, come in groups of six to 10. This suggests that the real popularity of fondue may be its bonding qualities - even if you don't follow the Swiss custom of performing the forfeit of kissing your companions if you drop your bread cube into the cheese mix.
"We have seen a trend in consumers since the recession to create meals at home, which bonds the family together and has the potential to turn dinnertime into a treat," says David Howlett, strategic planning director of MMR Research, which analyses food and drink consumption patterns in Britain.
"Some people have gone back to their pre-recession behaviour and are eating out again, but others who developed new patterns say they will never go back."
These may be the cooks driving up the sales of fondue sets, kits and cheeses - and, if they are purists, they will be the ones lashing out on the expensive little bottles of kirsch without which, alas, fondue never tastes as lip-smackingly good as it does in Switzerland and the Savoie.
- INDEPENDENT