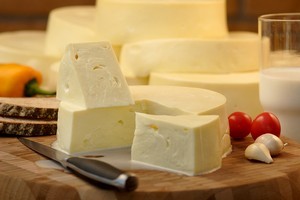 Obviously we're huge fans of artisan products (or we wouldn't be doing this column) but people like Nina and Marina Kandelaki, makers of Colchis Georgian cheese, are a reminder that our version of "artisan" is just the way they still produce things in some countries.
This mother and daughter team produce traditional Sulguni, a very popular cheese in Georgia. "We haven't been back in years," says Nina "but from what I remember, a lot of places don't even have supermarkets, so everything is pretty artisan, by default."
This dynamic duo make three kinds of Sulguni: fresh, semi-hard and smoked. All are stretched-curd cheeses with a delightful springy texture. The fresh is subtle, creamy and delicate in flavour, similar to mozzarella. But because it doesn't sit in water, like mozzarella does, it retains more acidity giving it a slightly - but not too - tangy flavour. We loved the fact you could actually see the layers from the stretching, and this effect gives it a great texture in your mouth. We're obviously not the only ones who love it, as it won a gold medal at the 2009 Cuisine Champions of Cheese Awards.
The semi-hard version is slightly saltier and more buttery in flavour. You can't see the layering in it because it is firmer in structure. The smoked Sulguni is similar in texture to the semi-hard but has the most heavenly smoked taste, possibly because it's really smoked, by the ladies themselves (with manuka and applewood chips) rather than just artificially flavoured. The smokiness starts off quite subtly but strengthens, leaving a great aftertaste. Both these cheeses have picked up silver medals at the Champion of Cheeses awards over the last two years.
As well as the traditional Sulguni, they also produce Inguli - their own creation named after Marina's Aunt Inga. It is made from a kefir grain starter (kefir are grains that are added to milk in certain countries to make a kind of fermented yoghurt drink). Because of its origins it has that yeasty, fermented taste but it's unique in that the texture is relatively robust, similar to haloumi but with holes. It is very salty so would probably need something sweet and tangy to offset it. It's one of those cheeses you will love or hate, depending on your salt tolerance.
Where to buy
You can buy Colchis cheese at Oratia, Grey Lynn and Hobsonville markets as well as Farro Fresh and Skazka in Newmarket - and you should, soon. This cheese is best eaten fresh, so if you're not buying from the markets, call first to find out when it was delivered.