Innovative Swedish fashion publication Acne Paper continues to break new ground, just like its clothing label.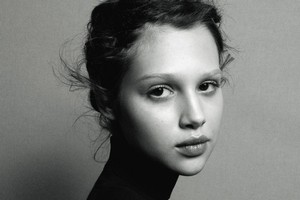 When Acne Paper launched in 2005 it was committed to what the editor-in-chief and creative director Thomas Persson describes as a "pan-generational editorial approach". The Swedish denim empire has long tentacles as far as any crossover into diverse creative industries is concerned, and the magazine in question amply demonstrates its literary/curatorial intentions.
Whatever, given the company's unconventional and proudly independent stance and the fashion industry's general bias towards a youthful aesthetic, this was a refreshing mindset and one admirable both in realisation and intent.
But, Persson says today, speaking from a remote cottage in the Norwegian countryside (as you do) and providing testimony, if ever any was needed, to the fact that there's little that's straightforward about this particular business: "We were becoming a little bit criticised for focusing so much on older people. A friend of mine went so far as to say: 'Why don't you just re-name it the Necrophilia Paper'."
Enter Acne Paper Issue 12, which focuses entirely not on the dead but, conversely, on youth. Given the publication's idiosyncratic approach, however, this is also not what, on paper (no pun intended), it might seem.
"[Someone] asked me whether I'd heard about the young violinist, Charlie Siem," Persson says. "I hadn't so he showed me a clip on YouTube of this amazing young person who has played the violin since he was 3. He is so completely immersed in his vocation. And that got me thinking about all these young people who have a passion for something - like ballet dancers or classical musicians - and who really know from a very early age what they want to do in life, and I thought that would be a good angle.
"It's not about hip youth, or being cool. In fact, it's more about young people doing things that are quite uncool, things that are not covered in magazines today. I thought we should do something on young nerds in a way."
And so, alongside a lead feature about the violinist comes a profile of Richard Lawson, apprentice to the chief cutter at the Savile Row tailor Gieves & Hawkes, an interview with the organist Aurelien Peter and a truly remarkable series of portraits and rehearsal images of the dancers at the Bolshoi Theatre in Moscow.
The magazine opens, meanwhile, with a spread dedicated to a manuscript of Erik Satie's three Gymnopedies, sourced by Robert Orledge, a Brighton-based authority in that field.
"I wanted to start the issue with a piece of music," Persson says. "I wanted there to be some kind of soundtrack, a classical piece by a young composer. Satie was only around 20 when he wrote it. Robert Orledge came to our offices in Shoreditch and I was blown away by the beauty of the sheet music."
Suffice to say that, given the continued focus on PR-driven surface gloss and unabashed branding in publications elsewhere, nerdy doesn't cover the title's content. And that is entirely true to form.
Past issues of Acne Paper, which is thematic and printed on large format, matte paper, have concentrated on everything from tradition to the city, from the studio to eroticism and art and spirituality. The roll call of subjects, photographers, fashion editors, writers and, most surprisingly, fashion brands that have been featured in its pages is impressive, to say the very least. Paolo Roversi, Snowdon, Daniel Jackson and, this time around, Bruce Weber all work with the team there. Every fashion name from Celine to Comme des Garcons and from Louis Vuitton to Lanvin lends clothes.
With the latter in mind, conspicuous by its absence is the Acne label itself. In an age where the fashion-marketing machine seems indomitable, the powers that be at Acne appear to believe that there is integrity to be had by association and feel no need to push product in its own magazine's pages.
"We do the magazine - and the fashion shoots - very freely," says Persson. "We don't have anyone saying we want this number of credits over the year otherwise we'll pull our advertising." Acne Paper doesn't carry any advertising - neither does the company advertise anywhere else, incidentally - and it is doubtless just this unfettered and relatively purist approach that makes appearing in its pages appealing.
"I think maybe that it's the context that the clothes are in that means people say yes to it," Persson says. "We speak about a theme from so many angles. It can be scientific, political, psychological, and that has earned us a certain amount of respect. I'm really happy that people see that and don't think they are helping a rival brand with their marketing."
So what exactly is in it for Acne? Given that Acne is a non-advertiser, Acne Paper functions as a lateral but very chic statement of intent, showing a commitment to intelligent editorial coverage - written and photographic - that immediately allies itself with the type of person who might aspire to buy into its tag.
"Acne has always done things in an unconventional way," Persson says. "The way that they've built the company is about being fun, interesting or good and hasn't really followed any fashion business pattern. As patrons of this publication they are pioneering and they take great pride in that."
Acne Paper also facilitates the building of mutually beneficial relationships. "We've done stories with the sculptor, Daniel Silver, for example." Persson says. "And now he's doing projects for the London Acne store in Dover St."
The company's innovative development has often been attributed to its Scandinavian origins - Acne was founded in Stockholm in 1996 - and so remains outside the mainstream fashion system. Acne Paper's fashion director is Mattias Karlsson, and Persson, a graduate of the Central Saint Martins MA course in fashion journalism, is also Swedish-born.
"It's difficult to define but it's sort of like a [Ingmar] Bergman thing where, in his films, he tries to look at the situation from all angles, from all sides, there's no stone left unturned where it comes to a conflict or a drama. Maybe editorially that's what we're trying to do. We're trying to find some sort of truth by looking at a subject from every angle. We're more interested in that than in decorative or flashy things that are trying to be impressive. The printing is important - the paper shouldn't be glossy. The atmosphere is maybe verging on the austere - an austere elegance. In the magazine, people talk about their troubles, their problems. So it couldn't be American or Italian."
Above all, there is an organic and authentic quality to Acne Paper, a sense of it extending above and beyond an obviously commercially viable concern, which is genuinely inspiring. And better still: "It's not strategic. It's just evolved. We see it as a vehicle via which to include people who we think are fascinating. It's not forced at all. It just sort of happens," Persson says.
* Acne Paper is on sale at MagNation. Acne fashion is available at Scotties and Fabric.
- The Independent