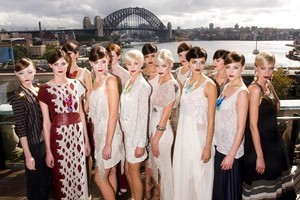 It was meant to be the height of glamour. Paris Fashion Week in 2005, and the Kiwi duo behind Sabatini was so busy writing orders for buyers, they were forced to sit on the floor of the showroom.
"It was the highlight of my business life, selling to probably the most prestigious stores in the world," says Margi Evans-Milich who, along with her brother Tony Milich, is celebrating 20 years in business. "I was on a high that is everlasting."
Sabatini's achievements in Paris pale into insignificance when compared with their longevity. Sticking around for two decades is itself an achievement, particularly in an industry where fashion designers routinely come and go. A quick look through the Herald archives reveals half the labels mentioned in a Fashion Week article from 10 years ago no longer exist. Sabatini has succeeded by branching out into the Australian market from the get-go. It might not sound patriotic, but the business has always been about export, to the tune of $50 million in 20 years. Unlike so many local designers who manufacture their designs in China, 95 per cent of Sabatini's knitwear is manufactured in a Mt Roskill warehouse, and in New Zealand the company employs 32 people - and almost as many in Australia.
Sometimes referred to as New Zealand's answer to Missoni, Sabatini is a home-grown success story. While the basics from their Aliza and Sabatini ranges are readily available here, it's the designer end of the label that has allowed the pair to create a name for themselves. Sabatini White is targeted more at affluent, high-fashion buyers, mostly in Australia and beyond.
"They're not very influential on New Zealand fashion but very much more in Australia where they have a foothold in the department stores and boutiques," says fashion editor Alice Rycroft, who has styled Sabatini White's fashion shows for years.
The label has already celebrated its big birthday across the ditch, with a show featuring the couture range at Cafe Sydney in April. The bash attracted some big names, among them Vogue editor Kirstie Clements and makeup king Napoleon Perdis, and featured top Aussie models Alice Burdeu, Louise van de Vorst and Aboriginal supermodel Samantha Harris.
"A tightly edited presentation of just 12 strong looks, this was Sabatini's best ever show," gushed frockwriter's Patty Huntington, singling out a "knock-out" fringed silver cocktail dress with fishtail train. The New Zealand celebration will be held on the first day of Fashion Week at the Hilton, and will showcase retrospective pieces through to the present day.
Forget chunky jumpers and shapeless cardis. If it's anything like last year's designer collection shown at New Zealand Fashion Week, it's bound to draw praise. That show featured crochet-knit used in 70s-style lean pants and coats, and body-hugging dresses, and was hailed for its strong tailoring, European influences and its nod to classic film, suggesting the clothes were aimed at starlets.
"The Sabatini White range is more for your TV presenter end of things, as it's very expensive," says Rycroft. "The knit dresses are tight, clingy and sexy so you have to have a good figure."
But even those packing a bit more in the trunk might find Sabatini's fits more forgiving when it comes to the more mainstream ranges. Milich says it's all about give and stretch. He's not a fan of chunky knits, preferring super-fine-knit jersey fabrics. That also allows for transeasonal pieces, which suit our unpredictable weather. He prides himself on the clothing being comfortable and easy-to-wear.
Keeping weaves light, the pieces suit Australia's warmer climate.
A passion for fashion is in the blood, with both Tony's daughter Anja and Margi's daughter Danielle playing key creative roles within the business. But the Milichs have their parents, Croatian immigrants Zarko and Sonja, to thank for where they are today. Armed with little more than two small domestic knitting machines, they established Sonny Elegant Knitwear in the 1950s. Over the following two decades they became a firm fashion favourite in New Zealand. Using meticulously hand-finished jumpers, cardigans, skirts and dresses, they were committed to creating original pieces. Kiwis certainly weren't at a loss for sensible woollies but the new label A lot of what we did then rings true for today.Margi Evans-Milich was all about style. By 1964 their cardigans and sweaters were regarded by Clothing and Footwear News as "so refreshing that we can gain new hope, each time, for the future of New Zealand's garment industry".
"A lot of what we did then rings true for today," says Milich.
It wasn't until he returned home from London, having travelled extensively, that he decided to join the family business, recognising the potential for Sonny to create a new line of design-focused knitwear.
His early collection of short, sassy dresses became immediately popular. He then went back to London to hone his design skills at the Royal College of Art and returned in 1971, wowing the public with his figure-hugging styles, including Lurex maxi dresses and sexy knitted shorts, must-have items in the 70s.
But by 1989, the label, like so many others in this country, was struggling. The Government had removed tariffs on goods and services traded with Australia, flooding the market with imports.
"We had to reinvent ourselves," says Milich.
Evans-Milich agrees. It had dawned on her there was a gap in the Australian market, particularly after having trouble finding a tight black polo in Sydney.
Naming themselves after their parents' favourite cafe in Rome, Sabatini was born, launching in Sydney in 1991 under parent company Sonny Elegant Knitwear. Within a year it was a hit.
Milich held the position of designer until 1994, after which he took over as managing director. Evans-Milich designed for and managed the Sydney operation.
"New Zealand was still showing conservative pieces - loose and comfy - whereas Sydney was open to body conscious, sexier styling, lighter yarns, and there was this acceptance of Sabatini straight away," she says.
Their first account was the boutique store Belinda and things took off from there.
Within 10 years, Sabatini was well-established in Australasia across its three labels Sabatini, Aliza and Sonny. But once again they faced stiff competition from imported knitwear brands and knew they would need to do something bold to sustain the business.
The Sabatini White label was launched to critical acclaim at New Zealand Fashion Week in 2001. Referred to as the "showtime collection", the clothes took on a more fashion-forward, expensive edge.
Fashion editor Fiona Hawtin critiqued their first fashion show, writing, "the subtle changes of pattern and colour in a kaleidoscope inspired the range. Playing with the different shades of each colour. A lot of patterns, a few stripes but not your standard stripes. There's a bit of a Latin feeling to it. Quite fiery."
With 50 stockists in New Zealand and 150 in Australia, the collection showed Northern Hemisphere buyers what Sabatini could do. A year later, the Daily Telegraph's fashion director, Hilary Alexander, was snapped at New Zealand Fashion Week, having visited Sabatini and picked up a pair of ugg boots, which she continued to flaunt on her return to London. Perhaps not the most glamorous item in its repertoire, the boots nonetheless won the firm some favourable coverage.
Australian supermodel Miranda Kerr also wore Sabatini White during a 2008 show for department store David Jones. Perhaps the label's biggest coup however, was its ready acceptance into the big fashion cities of the world.
In 2005 the Milich siblings showed at Paris Fashion Week and were inundated with buyers.
"The buyer from [clothing store] L'Eclaireur loved my Sabatini dress, so I took it off and gave it to her," says Evans-Milich. "She wore it."
After that Sabatini White was picked up by Studio Zeta, a leading Italian showroom in Milan, and Sabatini started exporting to Italian boutiques in what Milich refers to as "knitwear's spiritual home".
He fondly recalls chatting to international buyers about how its was planned to market the clothes in Tokyo, before trotting off to a local restaurant with a group of new fashion friends, including Botox and Fifi, dogs belonging to one of the buyers.
Sabatini White also sold into Henri Bendel and Searle boutiques in New York. The label was on a high, so much so that Evans-Milich recalls laughing so hard with a stylist while driving through the city that she crashed the car.
"It was traumatic but hey, it was New York!"
Both say knitwear has never been out of fashion but there were hard times, particularly when their father passed away. When the recession hit in 2008, they had to pull out of Europe. They have since held back from cities such as Milan and New York, not least because of the expense of pursuing those markets post-recession but because of all the tariffs and regulations, says Milich.
It's never been easy finding a balance between commercial success and creativity, acknowledges Rycroft. "But they've done incredibly well.
"It's a balance between their commercial and top-end ranges. There's only so much space on a knitting machine and only so much time to spend 10 hours knitting a dress for Sabatini White."
They are always reinventing themselves, says Milich, who has always known that the key to staying competitive is to keep adapting. Now the Government has introduced the New Zealand China Free Trade Agreement, they have the opportunity to move into the lucrative eastern market.
Meanwhile their children continue to develop the brand. At Sabatini's Sydney office, Milich's daughter Anja (currently on maternity leave), is creative director, overseeing each design. Evans-Milich's daughter Danielle has designed a new woven collection for their Australian market.
Son Antoni was also part of the business, managing the stockroom warehouse, but left a few years ago to do his OE.
How well do business and family mix?
"It can fluctuate from a creative, free, spirited and worthwhile discussion," says Milich, "to intense, slightly crazy points of view. But we always seem to finish discussions on the same page."
Dinner table conversations are never dull, adds Evans-Milich, with everyone talking over each other "hot-blooded European style. It's a combination of wild fashion, wild food, heaps of nostalgia. It's very noisy and very emotional."
Ultimately, it's a timelessness that has kept Sabatini going for 20 years, she says. She still looks back at her earliest designs in amazement.
"I'm loving the super-old, vintage-inspired designs, my mum's fringed shawl that is framed in my brother's office. I love that I still look at garments from the past and see their relevance. I think this is why Sabatini goes from strength to strength."