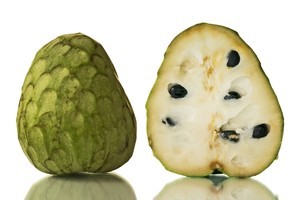 How to grow it:
The cherimoya is my favourite fruit.
The flavour of this subtropical fruit is somewhere between a passionfruit and a pear.
It has large, brown seeds and soft cream flesh, which is almost like eating icecream.
Each one sells for about $5, so they're a complete luxury.
They require careful handling, and need to be eaten at the right time, when the fine skin gives a little. Too ripe or too firm and they're no good, which is why growing your own Cherimoya tree is a good idea.
Cherimoya trees prefer a moist, free-draining loam, rich in compost. These small pretty trees are best in a sheltered spot, interplanted with other subtropicals.
The fruit on our 3-year-old tree are almost ready to harvest now.
What to cook with it:
There is no need to do anything with a cherimoya, other than savour spoonfuls of the luscious flesh straight from the fruit, like icecream in a tub.