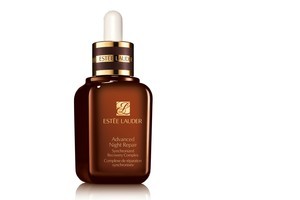 These retail skincare products come with big reputations:
Estee Lauder Advanced Night Repair 30ml $129
Night Repair can claim pioneering serum status. The elixir was a rarity when it was launched in 1982 to combat environmental damage, but now there is a whole category of these repair and recovery boosters. The "Advanced" formula updates the original and adds smoke and pollution fighters, but with the same promises to improve hydration, signs of ageing and uneven skintone.
Elizabeth Arden Prevage Face Advanced Anti-Ageing Serum 50ml $292
The serum is at the heart of the Prevage family, a range launched in 2006 that has now grown to eight products, including moisturisers with sunscreen. All contain the highly-rated antioxidant ingredient Idebenone, which helps protect skin from oxidative stress and supports the repair process. A recent addition is Prevage Clarity which targets age and sun spots and there is a version for sensitive skins on the way.
Neutrogena Ageless Intensives Deep Wrinkle Eye Cream $34.99
Contains retinol (vitamin A) to absorb into skin and target fine lines. The eye cream has delivered good results in trials and the Ageless Intensives range, which also includes moisture-boosting hyaluronic acid, has made an impact at the affordable end of the anti-ageing market. Retinol products work to thicken skin, enhance collagen synthesis and promote cell renewal, and Neutrogena's stands out for its emphasis on delivering it an effective stabilised form in retail skincare.
Lancome Genefique concentrate, 30ml $145
Sells like macarons to those in the know for things French and pricey. Genefique was launched a couple of years back with the tag "youth activator" and bold claims from Lancome that its understanding of skin at the genetic level means this boosts gene activity and youth protein production. Designed for all ages to be used in addition to a moisturising regime. It does leave skin texture feeling refined.
Skin Medica TNS Recovery Complex $258
Go beyond AHAs, retinols and topical vitamin C, Skin Medica urges, saying its Recovery Complex's "unique cocktail" of effective ingredients will mimic the skin regeneration process targeting those ageing issues of fine lines, pigmentation and tone and texture. This potent concentration of growth factors doesn't smell great, but the pitch, in combination with it being dispensed from skincare clinics in a high-tech container, plays on that "it's got to be good for you" appeal.
Olay Total Effects Moisturiser for Normal Skin with SPF15 $33.29
This product has been around for 10 years and appeals to budget-conscious women wanting anti-ageing assistance. Its publicity uses the same model as a decade ago and, refreshingly, she even looks a bit older but with the sort of skin we all aspire to. It contains a mix of vitamins, including niacinamide (B3) to help fight seven signs of ageing, namely: fine lines and wrinkles, blotches and age spots, skin texture, skin tone, skin dryness, skin surface dullness/loss of radiance and pore visibility. (Olay's Regenerist range also tested ahead of other brands in a recent consumer study.)
Stockists: Selected department store and pharmacy counters. Olay, Nivea and Neutrogena from supermarkets also. Skin Medica from selected skincare clinics, including Prescription Skincare, Remuera.