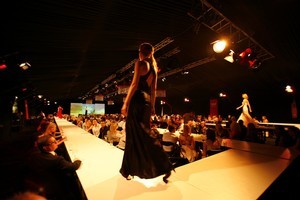 The ten finalists in this year's Westpac Young Fashion Designer Competition have been announced.
They are: Ruri Castillo, Georgia Currie, Jessica Grubisa, Laura Marshall, Trish Peng and Qiulae Wong (in partnership), Glen Prentice, Lucie Sutichunta, Helen Trethewey, Miriam White and Roxanna Zamani.
The competition, now in its second year, aims to create a launch pad for emerging fashion designers by offering the winner a $5000 bank account with Westpac in addition to business banking advice and a year's worth of professional mentorship from successful businesswoman-turned-designer, Angela Lewis.
Members of the public can vote for their favourite of the 10 finalists by going to facebook.com/westpacyoungdesigner and clicking on the 'contests' link.
The three designers with the most votes by midnight on Sunday, August 14, will present their mini collections during the Westpac Red Collection show at Fashion Week on September 1, with the winner announced at the conclusion of the show.
Martine Jager, Westpac's General Manager, Marketing and Customer Experience, said she was excited at the calibre of the entries received this year.
"New Zealand continues to foster an amazing amount of creativity and flair that highlights the fashion design talent in our country," she said.
The competition's judges this year are photographer and stylist Karen Inderbitzen-Waller, musician and designer Boh Runga, and Zambesi menswear designer Dayne Johnston.
Johnston also said he was impressed with the standard of entries but that the finalists stood out for their "original ideas, and also for their presentation, which demonstrated a clear visual understanding of each collection".
"I think the top 10 selection is diverse and the public will be polarised - which is always good in a competition!" said Runga.
"There's something for everyone's taste."