Justin Newcombe shares some final bits of advice and wisdom for completing the mapping out of your perfect garden.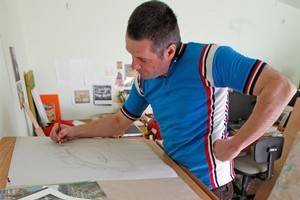 Last week we looked at drawing a flow diagram as part of designing a garden. This week it's time to take a look at a finished landscape plan. This needn't be the big drama I'm going to make out here. You can spend an hour with a pencil and rubber and get a result that answers some of your garden's problems and gets you going in the right direction.
But there are a couple of things to be on the lookout for. Firstly, I'll repeat myself and remind you that doing a site assessment will help you design a practical, efficient and beautiful garden. The key part of your assessment is the sunlight conditions. In almost every situation, you want to be able to maximise the sun, which is indicated using a north arrow. The sun provides energy for you, your family and your garden. Clever architects are designing buildings to use this free resource a lot more intelligently for passive solar heating inside, and the same thing needs to happen in your garden.
It's not all about creating a sun-trap though. Many plants require shade or partial shade so designing shade into a garden can be as important as getting in light. This is where deciduous trees come into their own. They drop their leaves during winter, allowing precious light into your garden but re-foliate during spring giving some welcome shade during the heat of a summer's day - good for both plants and people.
The final design is also the place to make decisions about hard landscaping materials. What to use where can be an expensive conundrum and this is where last week's flow diagram comes into its own.
Remembering that the darker arrows give an indication of heavy traffic, allocate your resources in this area accordingly. I always design heavy traffic areas with a utilitarian eye and go for the most practical material available, almost always a hard surface. The variation of materials is endless and the final choice will rely heavily on the dubious notion of taste. Good taste is of course on the tongue of the beholder and this is where you have a definitive advantage over a professional designer. You will know what you do and don't like intimately but even then it's easy to be indecisive. It helps to look through picture books or magazines, give each picture a yes or a no. If you can't give it a big fat YES straight away then it's a no. By doing this you'll be exposed to new ideas and materials while still maintaining your own personality in your design.
Also, try not to micro-design corners of your property. Concentrating on one area of the garden without considering how it fits in the overall plan will disrupt continuity and waste resources. From the shape of the patio to the shape of the lawn, keep things strong and simple.
Lastly, with all this talk about hard landscaping and utilitarian surfaces let's not forget what a garden actually is. A garden is like a song, a bit useless on the face of it but I wouldn't want to live in a world without songs. How about you?