Having cooked for high-profile celebrities, restaurateur Derek Yee and sister Teresa are set to teach the masses.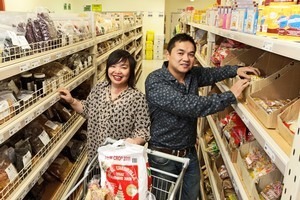 Mick Jagger's daily bread was a baguette with salmon and cucumber. Charlie Watts wouldn't eat anything unless it was steamed. It was a healthy diet by anyone's standards, let alone the Rolling Stones'. Mind you, Keith Richards preferred hearty English staples like shepherd's pie, says Derek Yee, who cooked for the band and a 300-strong entourage during their Voodoo Lounge tour.
It seems a bit of stardust has rubbed off on the Wellington chef. He and his sister Teresa Yee are hosting one of the most popular events at this year's Wellington on a Plate food festival (August 5-21). Both of the Modern Asian workshops have sold out but the brother and sister team hope to stage another similar event, in which they shed light on Asian cooking techniques and demystify the weird and wonderful delights commonly found at Asian supermarkets.
The Kiwi co-owners of FINC (Food Incorporated) Dining Room in Wellington's Wakefield St have a wealth of food knowledge, thanks not only to their Chinese heritage, but also years of culinary adventures that have taken them everywhere from rock'n'roll tours to Morocco and Antarctica.
"Every weekend revolved around food when we were growing up," says Teresa. "It was a social thing and it got the family together, the grandparents and great-grandparents. Mum and Dad [from Hong Kong and Canton respectively] had always been interested in food as a creative thing."
As kids the Yees picked seaweed from the Seatoun rocks to use in soups, and sat at tables laden with food for special occasions and Chinese festivals. During the Moon Festival they'd eat mooncakes, pastries filled with red bean paste or yolks from salted duck eggs; at Chinese New Year, a banquet of roast pork, chicken and duck, dried shiitake mushroom with vegetables and their dad's signature dish of black moss and dried oysters.
Their day-to-day meals bore little resemblance to the kind of Chinese food many Westerners have become accustomed to, with less of the deep-fried favourites and more of the pickled vegetables, chilli spices and dried lotus roots.
"Traditional Chinese and what you get at a restaurant are totally different," says Derek. "We wouldn't have spring rolls and things like that. We'd have wontons but they wouldn't be fried, they'd be in a soup base with noodles."
At 16, Derek began to take his burgeoning interest in food more seriously, taking a year off after school to learn how to cook the Western way so he could combine it with his Chinese cuisine skills. After gaining experience at fine-dining restaurants in Wellington and Christchurch, he spent a year in Antarctica, where he cooked for US naval soldiers, many of whom were fresh from the Gulf War. Later he took off for his British OE, swiftly securing a good job as a chef at a Conran restaurant in London.
One of his colleagues was into music and it was through her he got the Stones gig.
"You'd pinch yourself every time, but they'd always come into the kitchen and say hi and that was the nice thing about it because you worked damn hard. They really looked after us, sending us to Michelin-star restaurants. It was one big family."
That job led to another tour, this time for David Bowie, cooking for the 60-odd crew, and the star himself. "He always lined up for food, just like everyone else."
Meanwhile Teresa's passion for food bubbled away in the background as she pursued a career in retail. After graduating from university with a fine arts degree she moved into set and stage design, and later window-dressing. She kept her hand in hospitality with part-time waitressing and front-of-house restaurant jobs.
Rather than follow her mates to London, Teresa was intent on taking a food-focused OE. She spent her first three months abroad working as an au pair in Britain, before heading to Aberdeen in Scotland and Devon in the south of England, seeking out signature dishes along the way.
"I went to Lamington for lamingtons and Bakewell for Bakewell tarts, Yorkshire for pork pies. I wanted to really experience food and learn about its origins."
After travelling extensively through Europe she got a job as a merchandiser at the Body Shop working for the late Dame Anita Roddick, who inspired her with her business sense and avid social campaigning.
"She was about being kind to people. She was this amazing corporate person with this empire of businesses but she understood how to communicate."
Teresa then moved to Sheffield for two years with her British partner, before returning to New Zealand.
After years individually honing their tastebuds, the Yee siblings decided to pool their resources and go into business together, opening FINC seven years ago. Derek is in charge of the kitchen and Teresa looks after front-of-house "and everything else". The food at FINC is a tribute to their travels, with about 20 per cent of the menu inspired by Asian cuisine.
Tried these?
Next time you visit your local Asian supermarket, put these in your trolley:
Jellyfish
Don't worry, you won't have to deal with slimy tentacles. This surprisingly tasty snack comes diced and ready to eat, preserved in a packet with vinegars, salts and sometimes chilli. Try it with cold slices of pork or braised pork hock, and serve with a salad of shredded carrot, lettuce, spring onion and coriander.
Seaweed
It's not just the Japanese who use seaweed. Chinese cuisine often uses it in soups. You can also buy it as a snack food. Rather than choosing nori, the type used in sushi, look for the flattened and dried variety. It'll give you the same salty kick as chips but with much less fat. It's not all guilt-free though. Some varieties have been deep-fried, salted and spiced; others have flavours added.
Tamarind
This is a versatile product available in a concentrate or pulp. It's a tangy, zingy flavour, commonly combined with palm sugar and fish sauce in Thai and Cambodian cooking. It's also good in curries that aren't heavy on coconut, and can be used to marinate and tenderise meat. Beware, it can also change the colour of meat and easily overpower a dish. Another good reason to go easy: it's known for its laxative effects.
Dried plums
These tart, sticky morsels can be eaten as a snack or used in meat dishes. They go well with pork, especially when combined with ginger for delicious Chinese pork ribs. The Japanese use them in plum wines.
* Wellington on a Plate is now in its third year with more than 80 events between August 5-21, and the return of DINE Wellington, where more than 100 of Wellington's best eateries offer lunch and dinner set menus to meet every taste and budget. New this year is the Fisher and Paykel MasterClass, a chance to see chefs Desmond Harris, Alexa Johnston, Al Brown, Martin Bosley, Chef Wan and Justin North reveal their kitchen secrets.
Where: Renouf Foyer, Michael Fowler Centre, Wellington. When: Friday August 19, 9am-5pm Cost: $325 per person + $8.75 transaction fee. Ticket price includes four chef demonstrations, coffee on arrival, morning and afternoon tea, a lunch showcasing some of the best Wellington ingredients and wines, Wellington Fisher & Paykel MasterClass recipe book and a goodie bag. Seats are limited. Bookings: 0800 Ticketek (84253836) or 04 384 3840 from a mobile.