If you reckon sherry's just for little old ladies, then think again.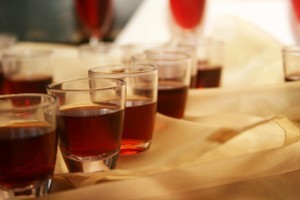 I've been thinking of Christmas a bit lately, after a couple of casual incidents sent my mind in that direction. First, someone was talking about how much brandy to put in a Christmas pudding and it reminded me of being a lad at home when my uncle arrived at the house in a state of advanced refreshment one night before Christmas.
Struck with sudden hunger he fell upon a pudding my mother still had hanging in a cheesecloth and devoured it.
When he'd finished, he realised he might be in a spot of bother so he replaced it in the cheesecloth with my football. The weeping, gnashing of teeth and threats of violence from my mother when she discovered the trick the next day shocked me to the core.
But what really got me thinking Yuletide notions was drinking sherry. I was at a show where wineries were offering various tipples and I saw a bottle of something labelled Walnut Brown. It was a sherry - and a very fine one at that, packed with nutty goodness - and I was compelled to try it.
On speaking to the stallholder, I discovered that he also carried a sherry called A Winter's Tale, which took me back years to when sherry was advertised only at Christmas and it wasn't really Christmas at all without a bottle of A Winter's Tale.
It was the first sherry I ever tried and although I didn't realise it at the time it was the start of a long and quite odd love affair with sherry.
I say odd because most people under 70 don't drink sherry.
Offering sherry to someone brings odd looks and muttered refusals. It's also not the kind of thing you see too often in bars, although it should be.
Port has a reasonably strong following in this country but sherry seems to be the preserve of dainty older women. It seems that if you don't knit then you probably don't drink sherry.
That's a crying shame, because it is a supremely enjoyable drink, packed with nutty, fruity flavours and a drying acidity, even in the sweeter styles. It's a fantastic partner for soups, mains and desserts and is equally good alone.
And don't be put off by visions of your Nana filling her flagon at the bottle store.
Go to a decent wine shop, ask for a recommendation on a good Spanish sherry (the only real sort) and sit back, relax and let centuries of tradition and quality glide across your palate.
Don Kavanagh has been involved in the hospitality trade for more than 25 years and is the editor of Hospitality magazine.