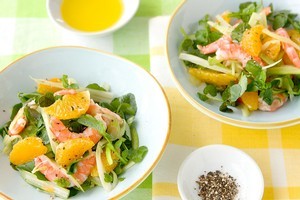 Winter salad
Mix chopped grapefruit segments with steamed shrimp tossed through a dressing of equal parts soy, sesame oil, honey and balsamic vinegar (go heavier on the balsamic) and a dash of hot chilli oil. Serve over baby spinach greens or chopped lettuce. Or for a Thai version, dress with lime juice, fish sauce, sugar and crushed garlic, and add chopped chillis, spring onions, mint and coriander.
Chicken licken'
Squeeze grapefruit over the chicken, and stuff the cavity with the skins before roasting, for a refreshing change from lemon.
Cheesecake
Top your usual cheesecake recipe with segments of caramelised grapefruit and orange and grated orange rind.