In cold weather, ribbons of hokkien, udon or vermicelli are the ticket to warmth and comfort.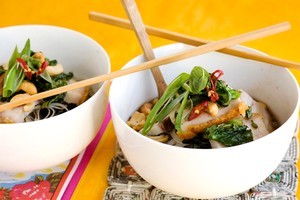 Noodles are fantastic for being so versatile.
When it is a little frosty outside it takes only a short time to create dishes that are both warming and satisfying while providing a needed burst of fresh flavour and colour.
Many flavours and ingredients work well with noodles, so all you need to do is start with a base of, say, beef, seafood, chicken or tofu then choose a type of noodle and plenty of herbs, vegetables and a sauce.
Mix together into a bowl for a delicious and well-balanced dinner. As far as the noodles go, there are many varieties and it can be a little overwhelming.
I believe it is a matter of giving it a go. Fresh or dried, egg, rice, buckwheat [soba] or flour. Look out for delicious Korean noodles made from sweet potato and Japanese noodles made from taro.
The different ingredients provide textures and flavours that are well worth tasting and are all so readily available from local Asian supermarkets and increasingly, from the more mainstream providers.
Choose the ones you like the look of and have a little experiment.
Cooking requirements differ though, so if unsure or the instructions on the packet are in a language you can't understand - just ask.
Vermicelli is a very fine bean curd noodle that can be almost impossible to cut through in its dried state, so make sure you are feeding at least four people with one packet.
The easiest thing to do is to remove the noodles from the packaging, cut off the string then put in a large bowl and cover with boiling water. These noodles don't need to boil to cook but do need to soak in the water for 15 minutes. Drain and then cut with scissors and set aside while continuing with the rest of the recipe.
Find the freshest flavours to complement the noodles. Bundles of mint and coriander are easy to find if not growing in your backyard, or in a pot in the sun on the window sill.
Lemons are plentiful, limes not so easy to find but you will only need a couple per recipe for an unmistakeable flavour.
Thai basil may take a bit of hunting down but is well worth it, as is Vietnamese mint which once planted in a large pot so it is contained does grows like mad, but will provide a sharp taste and spiciness to each noodle dish you create.
Chef's tip
Dried noodles can be kept in the pantry until the use-by date. Fresh noodles need to be refrigerated and cooked as soon as possible - within 3-4 days at the most. Alternatively they can be frozen until needed.