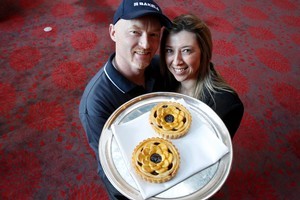 A fruity winter warmer has taken the top spot at this year's Bakels New Zealand Supreme Pie Awards.
The spiced plum, port and apple pie, made by Shane Kearns of Viands Bakery in Kihikihi, beat a record 4400 other entries to take out the coveted title.
It is only the second time in the awards' 15-year history that a gourmet fruit pie has won the supreme award.
The winning pie was a family effort, with Shane's wife Kathy creating the filling while he made the pastry.
Kathy says the idea for the winter dessert pie came to her in the middle of the night.
"I woke up and thought 'right, port wine and plum', so I woke Shane and told him, and he said, 'Yes, plus apple'."
The couple moved from Hawkes Bay eight months ago and were inspired to make the pie after experiencing the King Country winter.
In addition to the main ingredients, the pie filling contains cinnamon, orange zest, vanilla paste and a lot of orange juice.
"I kept tasting and refining it as you can't have the port wine too strong," Kathy said.
Judge James Buckrell, of BJs Bakery chain in Hastings, said the Kearns' gourmet fruit pie was a real stand out.
"It was a perfect looking pie in the way it was hand crafted. The flavours of plum and port wine did not overpower each other."
The Kearns produce about 300 pies a day and say they have a loyal clientele. In addition to the Kihikihi bakery, they have a store in Te Awamutu.
Kathy's parents, John and Linda Atwill are also in the pie business - they own Osler's Bakery, in Wairoa and won the supreme pie award back in 2002.
More than 380 bakeries from around the country competed in this year's awards and the entries were judged in a blind tasting last week by 18 pie experts.
Gold, silver, bronze and highly commended awards were handed out across 11 categories, including mince and gravy; steak, vegetables and gravy; steak and cheese; bacon and egg; mince and cheese; gourmet fruit; seafood and commercial wholesale.
Chief Judge Grant Wilson, the owner and managing director of Maketu Pies in the Bay of Plenty, said the standard was "way up" on last year.
Wilson believes New Zealanders are passionate about pies and says the awards have been a great boost for the industry.
"I think [pies] are convenient and a good quality pie is a good snack or meal, especially if you are active. It's just a real Kiwi thing."
Buckrell agreed, saying the awards had pushed the whole pie sector into the limelight and helped to improve the quality of Kiwi pies.
"A lot of bakers have stepped up their act, and the flavours were really beautiful. All the people who won gold swards deserve to be there," he said.
The Kearns' win ended the dream run of pie maker Pat Lam, of Gold Star Patrick's Pies in Tauranga and Rotorua, who has won the supreme award four times, including twice with a creamy bacon, mushroom and cheese pie.
The Kearns received $7500 and the Supreme Piemaker Trophy, while gold award winners each received $1000.
2011'S GOLD AWARD WINNERS
Mince and Gravy: Ian Holloway, Hollies Bakery, Hastings
Steak, Vegetables and Gravy: Jenny Ly, Penny Lanes Bakery, Onehunga
Chicken and Vegetable: Neville Jackson, Jackson Bakery & Café, Havelock North
Vegetarian: Bunnarith Sao, Dairy Flat Bakery, Albany
Bacon and Egg: Brent Hughes, Pukekohe Pak N Save
Mince and Cheese: Brent Hughes, Pukekohe Pak N Save
Steak and Cheese: Ian Holloway, Hollies Bakery, Hastings
Seafood: Brent Hughes, Pukekohe Pak N Save
Commercial/Wholesale: Murray Swetman, Gourmet Foods, Tauranga
Gourmet Fruit: Shane Kearns, Viands Bakery, Kihikihi and Te Awamutu
Gourmet Meat: David Liem, Greenland Bakery & Café, Botany
* For a full list of all this year's winners, click here.